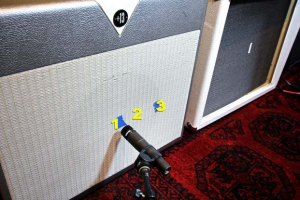 May I take this opportunity to pimp my new monthly recording column in Premier Guitar? The first installment covers basic electric guitar miking technique. It's ground that's been covered often enough before, though I hope the article's many audio files (recorded via ReAmp, moving the mic between "takes") shed some new light on the topic.
Meanwhile, I'm breathlessly stoked about my new "Partsmaster." It's a Korina "Split Jazzmaster" body from Warmoth with Fralin P-92s and some new tricks I've been wanting to try with wiring and onboard overdrive, plus several other ill-considered, stab-in-the-dark adventurous experiments. It's like some wacky Firebird/Jazzmaster hybrid ("Birdmaster?") I hope to post some video later this week, but right now, the guitar is awaiting the plek treatment at Gary Brawer's shop. Gary is also prettying up some of my clever but sloppy wiring, and remedying the fact that, when I brought the beast in, the strings were about a half-inch from the fretboard.
Can't wait — this is an interesting one!