Oh man — my friends at Premier Guitar just posted a video of me demoing four of my new pedal prototypes at NAMM. I didn't even think I'd have these ready by showtime, but I powered out at the last minute. (Maybe 'cause I needed something to take my mind of the inauguration.)
It's been a busy month since we filmed this. We've settled on names, graphics, and specs, and everything is in development. (Though they're still a few months away from shipping.) I've included the first-draft enclosure graphics as well.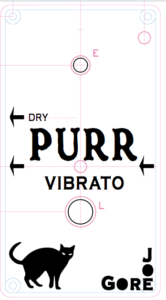 Purr is a minimal one-knob optical vibrato. Yep — one knob, which means no independent rate and depth controls. Sound crazy? I agree. But it just sort of works! (I explain my questionable reasoning in the video.)
It's not a deep, wobbly pitch-shift effect — more like cross between a really warm, pretty tremolo and a subtle optical vibrato. It'll have the same large knob as my Duh pedal, so you can make adjustments with your foot, assuming you're not as clumsy as I am.
It's my fave modulation circuit, one I've used on a number of my YouTube videos. Here it's on throughout at a very subtle setting.
In this video it's set more strongly, though I toggle it on and off as I loop additional layers.
Screech, a mutant spinoff of the Octavia and Green Ringer octave fuzzes, is an outgrowth of the experiments I did did a few years ago, when I built models of every major octave fuzz design, and then attempted a variation of my own. (It's not too far removed from the final pedal in this video, which appears at the 10-minute mark.)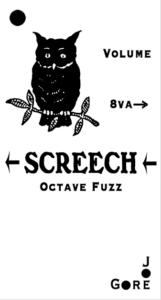 It's got the most extreme octave effect I've ever heard from an analog octave fuzz, and unlike on an Octavia or Green Ringer, the effect works in all neck positions and at all pickup settings. You can also bypass the octave portion of the circuit for a straight distortion sound. (That's not a new idea—it's a popular Octavia mod. But that non-octave Octavia sound is dull as dirt, whereas this, I think, has a bit more character and impact.)
Porkolator also springs from a video demo/experiment of a few years back. It's my oddball spin on the Interfax Harmonic Percolator, which is already pretty odd to begin with. It uses the same weird combination of negative- and positive-ground transistors for that sort of gravelly, decidedly non-tube-like distortion that Steve Albini loves so much. But all the part values differ, and the gain stages work very differently. There's also an independent boost stage that can generate tons of extra level if desired. Again, it's not that far removed from the final example in my octave fuzz video. (It appears starting at 5:55.)
Unlike the other three pedals, Cult Germanium Channel is pretty much finished. (We were originally going to include it among the 2016 releases, but decided that three new products were enough.) Its heart is the same primitive germanium overdrive circuit as in my Cult pedal, but with lots of added doodads: a tone-shaping pre-gain control, great-sounding active 2-band tone control, and an output trim. You can read more about Cult Germanium Channel here.
The NAMM video also features a demo of Kitty Boy, my imaginary vision of a germanium fuzz that should have existed in the 1960s. It's sort of a cross between a Maestro Fuzz Tone and a Tone Bender Mk. I, which can go from lightly overdriven "Satisfaction" tones to hyper-saturated Ziggy Stardust glory. (It's inspired by a conversation with Lyle Workman, so thanks, Lyle!)
I hope folks dig these. I'll keep you posted about release dates and final prices.
Thanks, Jason Shadrick and Perry Bean, for doing such a nice job with the video and squeezing me into a brutal production schedule at the last minute.