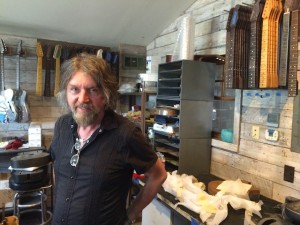 While in LA last weekend, I got to hang out with the guy who built my favorite modern guitar: the brilliant James Trussart.
I've been privileged to know many great luthiers over the years, but the thing that always impresses me about James is the way his instruments seem to be just one expression of a larger artistic sensibility. James grew up on a farm in rural France, but came to the States in the '70s to play Cajun fiddle. He seems to have always been fascinated by vanishing Americana, be it an endangered folk music style, a faded and rotting road sign, or an ancient car rusting in a field. With their richly textured surfaces and variegated patinas, his metal-bodied guitars exude that same aesthetic. I've never known brand-new instruments to impart such a strong sense of the past.
James lives in a rambling old Arts and Crafts bungalow in LA's Echo Park neighborhood, a place where every room possesses a rich texture of passing time. He's surrounded by cool instruments — both his own and many lovely vintage guitars — and much beautiful metal work: doors, gates, plaques, and whatnot, all crafted by James. A detached building in back houses the workshop where James and his assistants build several hundred instruments per year.
One of James's Steelcasters has been my favorite modern guitar for over a decade. (Here is a nice example of the guitar in action with Tracy Chapman, and here's another example with the Eels.) Later I got in the habit of tuning the entire thing down a whole-step, with the lowest string dropped to C. I recorded the entire Mental 99 album in a day using this inspiring instrument. Thanks, James.
A highlight of this visit was James's demo of his Percuphone — an electro-mechanical stringed instrument created in the '70s by his friend Patrice Moullet. (Here's a French-language Wikipedia article about the instrument, and here's a YouTube video of a more recent model.) Check it out:
I always feel inspired after hanging out with James. And not just guitar inspiration, but an overarching desire to make, do, and surround myself with inspiring things. Merci beaucoup, mon ami. :beer: