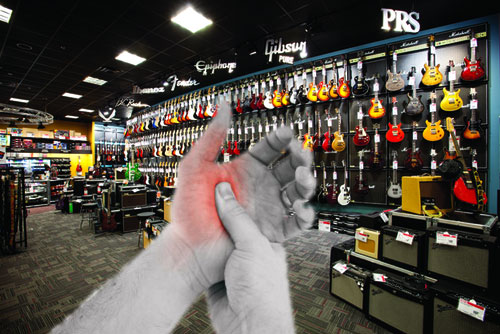 I'm lucky — I've never suffered from any playing-related pain. (I mean, other than expected stuff, like spurting blood all over a guitar when you bash it a little too hard, or picking up a soldering iron by the wrong end.) But I've been blissfully untouched by carpal tunnel syndrome, numbness, arthritis, etc.
Until recently.
A few months ago, my left thumb joint started aching. It didn't directly affect my playing — all those clams in my videos happened on their own! But it scared the crap out of me.
My doctor suggested it might be non-degenerative arthritis.
"Arthritis?" I squawked. "But I'm only . . . oh, yeah, probably arthritis."
Which it may well be. But it also occurred to me that I had been indulging in a new behavior for the last year or two, and wondered whether it might be contributing to the problem. See, I'm almost as addicted to my iPad as I am to flatwound strings. I've embraced the post-paper lifestyle, and I use the iPad for most of my reading and much of my correspondence. I keep it on my workbench while I solder, use it as a remote in the studio, watch movies while working out, and most important, use it to read comic books in the bathtub. I usually support it with my left hand, with the modest but constant 1.44 lb. weight centered right where I was hurting. I migrated to a .68 lb. iPad Mini a few months ago. Lo and behold, the pain has receded — for now, anyway.
But it makes me realize how much I take for granted the simple act of pain-free playing. Then I think of all the players who have either been derailed by playing-related pain, or who persevere despite it. And that's not even taking into account injury-related pain. (Hello, Django!)
So has guitar playing ever become a pain for you? (No, working with singers doesn't count.) Were you able to overcome it by modifying your technique, or through therapy? Any words of wisdom to share?