Well, I'm not sure it's fair to call it a "museum" when there's only one exhibit so far. But it's a really, really good one…
I bought this Maestro Rhythm 'N Sound for Guitar for a pittance back in the '90s. It's a primitive multi-effect unit from 1968, with a cool octave-down bass tone, auto-wah, and two fixed filters. It's got fuzztone (though mine has always been broken), and a weird, choppy tremolo reminiscent of the Vox Repeat Percussion effect. (Mine worked fine — until I broke it yesterday while trying and failing to fix the fuzz. Kill me now.)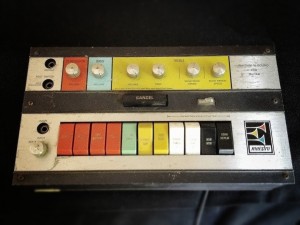 But the marquee feature of this hand-soldered contraption is the option of triggering four wonderfully cheesy analog percussion sounds. Bongo? Cymbal? Tambourine? Clave? At your command!
Does it sound as weird as it sounds? No — weirder!
You can't assign specific specific notes to specific sounds — any input triggers the percussion, so the clicks and clanks tend to work best shadowing every note in a phrase, adding a weird edge. (I used them like that on Oranj Symphonette's "Charade," Erica Garcia's "Yo No Tengo La Culpa," and PJ Harvey's "Maniac.")
But then it occurred to me you could more ambitious things with the percussion sounds via looping. Which is exactly what I do in this short, fuzz-free video.
Check it out — and then let's talk about this Museum of Lost Effects thing!
Anyway, I'm completely serious about this Museum of Lost Effects idea! I'm going to be posting similar demos of some of the weird-ass gizmos I've hoarded over the years. (I already recorded a few others demos, but that's all I'm saying for now.) But my hope is that some of you get into it too, and post audio or video documenting your most effed-up compelling effects. Or even just describe it in spirited language! C'mon — who's in?