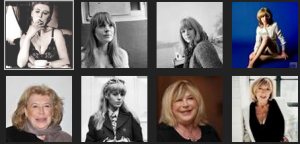 Wow, what a week!
On Thursday I met Marianne Faithfull for the first time at rehearsal, and then played two shows with her this weekend. It was intense. It was musically challenging. It was amazing.
Ten facts about Marianne Faithfull:
She's written countless great songs, including the Stones' "Sister Morphine." Her songwriting collaborators have included Nick Cave, Polly Harvey, Jon Brion, Angelo Badalimenti, Beck, Roger Waters, Dave Stewart, Damon Albarn, Jarvis Cocker, and many others.
Many great songs were written about her: The Stones' "Let's Spend the Night Together" and "You Can't Always Get What You Want." The Beatles' "And Your Bird Can Sing." "Carrie Anne" by the Hollies.
Many great songs were written for her, including "As Tears Go By," which she recorded before the Stones, and "Strange Weather" written for her by Tom Waits.
She portrayed God on the TV series Absolutely Fabulous.
She portrayed the devil in the stage production of Tom Waits' The Black Rider.
She is hereditary Austrian nobility, the Baroness Sacher-Masoch. Her great uncle was Leopold Sacher-Masoch, author of the perv novel Venus in Furs and the man whose name inspired the word "masochism."
In the early '70s she was a junkie who lived homeless on the streets of London's Soho district for two years.
She appears as one of the hangers-on in the seminal Bob Dylan documentary, D.A. Pennebaker's Don't Look Back.
She's written two riveting memories: 1990's Faithfull: A Biography (with David Dalton) and 2008's Memories, Dreams, and Reflections.
She has collaborated with an astonishing list of great guitarists. Jimmy Page played on her earliest sessions. The week before last, she performed in Vienna, Paris and London with Bill Frisell, who's worked with her for almost 30 years. Her other guitarists have included Keith and Ronnie from the Stones, Marc Ribot, Ry Cooder, Barry Reynolds, Chris Spedding, and Polly Harvey. So no pressure there.
Marianne  is one of my musical heroes — and would be even if she'd done nothing more than record 1979's Broken English, for my money one of the bravest albums of all time. She is cool, gracious, witty, generous, and generally brilliant. What an experience!
Preparing for the shows presented a number of technical hurdles (beyond the usual difficulties of having to learn much music in little time). We performed as a trio, with just me and my old pal Robbie Burger on piano. I made a number of technical discoveries, both in terms of playing and gear. I'll share some of them with you in upcoming posts. 🙂
All this unfolded against the delirious backdrop of San Francisco Pride Week, with the entire city exulting in the US Supreme Court ruling that nullified California's homophobic Proposition 8. I strive to keep this blog apolitical, but I must speak out here, since the issue of marriage equality affects my family, friends, co-workers, bandmates, teachers, and mentors. My eyes teared up when I saw the pics of anti-Prop 8 plaintiffs Sandy Steir and Kris Perry getting hitched in the beautiful SF City Hall rotunda, where my wife and I exchanged vows 20 years ago.
Like I said: a hell of week. :beer: