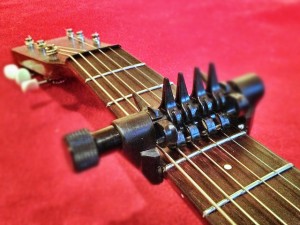 UPDATE, 03.07.13: I should have mentioned a point that several readers noted in comments: The capo only alters the tuning of open strings. Which means that while you can play many harmonies normally available only in dropped tunings, any notes above the capo appear at their usual frets. For example, all barre chords are played exactly as in standard tuning.
After all the digital guitar stuff I've been writing about lately, I really wanted to spend an afternoon without plugging in any frickin' USB cables. So I finally got around to experimenting with the SpiderCapo I picked up last year on a whim.
The SpiderCapo his six independently adjustable clamps, each of which can either stop the string or let it ring freely. That means you can dial in most dropped tunings without actually detuning any strings — instead, you transpose the entire voicing up. It's a lot of fun to play, and seems like it could be a cool composing tool if you're the sort of musician who gets inspired by unfamiliar tunings. Plus, it looks kind of wicked when you fret the unstopped strings behind the capo.
Here's a little video I made, noodling around in a few tunings I particularly liked:
Anyone else tried one of these? Or any other "tricky" alternate-tuning capo? How about those gadgets that (unlike the SpiderCapo) can stop strings at differing frets?