I was trying to decide which self-indulgent experiment fascinating project to demo this week when my hand slipped, driving a sharp soldering iron tip into the meat of my fretting-hand index finger. It didn't hurt all that much—until I tried to play. Ye-OWCH! (No, of course I wasn't using the tool properly! I was trying to pick loose a knot of wire with the iron's tip rather than the recommended wire-picker-thingy.)
So no guitar recordings for me this week while my poor l'il finger recuperates. But I'll try to compensate for this dog-ate-my-homework post by sharing three works in progress. If they turn out well (and they might!), audio and video will follow.
1. Lipstick Tubes Revisited. For more than a year, the generic Mexican Strat I fitted with lipstick tube pickups has lived, disassembled, in a filthy cardboard box next to my workbench, guilt-tripping me every time I fired up the soldering iron. There were a number of experiments I'd been meaning to perform on it, and in a spectacularly bad example of scientific methodology, I incorporated them all at once, making it pretty much impossible to discern what's doing what. But I hear some things I like. Here's what's new (beside the blood spatters):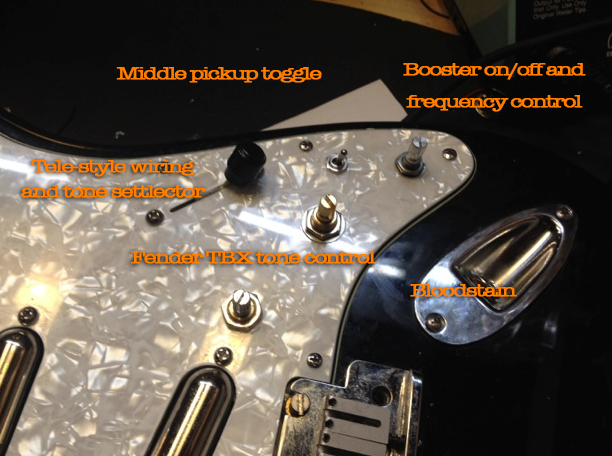 Not everything is working as desired yet — but there are some promising directions here, and it's so nice to have a lipstick tube instrument again. :pacman:
2. The Joy of Stick. Anyone tried a joystick effect, like Devi Ever's Drone Fuck Drone? I bought a few joysticks from 4Site and have been having a blast. I thought they'd be difficult to wrangle, but it's really just two pots, each with the standard three-lug connection, deployed in X/Y configuration. Two things to bear in mind, though: They're generally available only with identical resistance values for each pot, and more important, you need two controls that have meaningful values throughout their ranges. Fortunately, I had just the circuit for it: my Filth Fuzz (which Fuzzbox Girl was kind enough to demo and review in 2011). I'd even labeled the controls X and Y! (I'm not selling these, but I do hope to bring it to market before long. Honest.)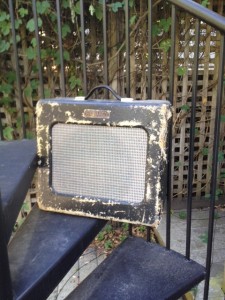 3. A Reanimated Amp.  This one's personal: I'm finally refurbishing the 1951 "TV front" Fender Deluxe amp that I received for as a bar mitzvah present in the '70s. (I was mature enough not to express my disappointment over getting some crummy old tweed. But how I longed for that shiny post-CBS crap!) My mom procured it from the son of one of her fellow elementary school teachers, who worked at Fender in nearby Fullerton. (Sadly, I've forgotten his name.) I also got to pick from three early-'70s Fender guitars: a sunburst Strat, a paisley Tele, and a black Jazzmaster. I, of course, chose the Jazzmaster — at the exact moment when no one on earth gave a crap about that model.  And naturally, I sold it just when new wave arrived and Jazzmasters became cool again. See? I established my pattern of buying and selling the wrong things at the wrong times while still in my teens!
I didn't wreck the amp by myself — the process started with the black paint job it acquired long before I entered the picture. Over the years it received a preamp mod from Paul Rivera, and later got totally ruined by an overambitious repairman who added mods I never requested, and who probably stole most of the original electronic parts. But the cab, chassis, speaker, and output transformer are original, and there's no reason why it shouldn't sound bitchin' after I restore it to its original 5A3 circuit. I'm getting expert help from Tube Depot's Rob Hull, who helped me source parts and make a grommet board to house the components.
So my apologies for all talk, no audio. My boo-boo is healing, and I should be back able to, like, actually play some of this stuff soon!