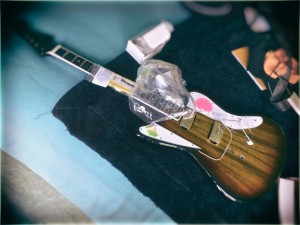 Oh man — the gods have been generous this week.
I just received from Warmoth all the parts for my next DIY guitar. I loved testing eight sets of P-90 pickups for Premier Guitar, but I don't own any P-90-eqipped guitars.I will soon, though!
This one will be a bit of a platypus — as opposed to, you know, all my other other platypi. (The actual plural of "platypus" is "platypuses," but "platypi" is more fun to type.) It's built from Warmoth's "split Jazzmaster" template, with a korina body, bound neck, Tune-o-matic/stop-tailpiece bridge, and a pair of hum-cancelling Fralin P-92s. Yeah, it's kind of a stab-in-the-dark experiment, and not a inexpensive one. But hope springs eternal. Prepare to be bored with details!
I've also just received an amazing-looking pair of condenser mics from Portland, Oregon's Ear Trumpet Labs. ETL kingpin Philip Graham's business card identifies him as "proprietor and bricoleur." Bricolage, of course, is the ten-dollar word for "making stuff out of junk and other found objects." Dig the steampunk vibe of that repurposed hardware! I haven't even plugged these in yet (though the reviews I've read have been stellar). I just like staring at them! But I'm going to try them out at my monthly Strung Out! show tonight.
Which brings me another of this week's highlights: I got to perform last night with my dear friends Teja Gerken and Adam Levy. Teja is an astonishing acoustic fingerstylist and a fine composer. His vocabulary has hints of Bensusan, Hedges, and classical, but he's molded those influences into a thoroughly unique sound. And Adam, who I've known since my Guitar Player magazine days, is equally renowned for his jazz work and for accompanying such singer/songwriters as Norah Jones and Tracy Chapman. (I get to play some of Adam's cool parts when I gig with Tracy.) These days Adam's focusing on songwriting, and he his sings his "smart Americana" songs (my description, not Adam's) in a sweet, soulful voice. Man, what a treat to hear both of them up close. And tonight, Adam, Shelley Doty, and I perform at my local dive, El Rio. Can life get any better?
Apparently so! Yesterday Premier Guitar posted John Bohlinger's piece on the Pixies, which includes a pic of Charles "Frank Black/Black Francis" Thompson's pedalboard, with my grubby, hand-built Duh fuzz pedal front and center. I'd originally made if for Joey Santiago, the other Pixies guitarist, but I guess Charles swiped it. Hey, I'd be honored if either guy spat on the thing! They've been heroes since I first heard the band in a small San Francisco club back in '88. (Everyone went to hear the Sugarcubes, but left talking about that awesome opening act from Boston.)
It's funny, because I really was thinking "Pixies" when I sound-designed the Duh. I was going for "bubblegum metal" — a thick, heavy sound, but not a macho one. The tone is too fizzy and funny for 100% sincere heavy rock, IMHO. It's more of a "greasy kid stuff" distortion. (Note to readers under 45: That was once the tagline for a "dry look" mens hair product, referring to the outdated coiffures that would return with a vengeance when punk broke a few years later.) It's a vaguely Muff-like sound, but with less compression, less scoop, and one big, stupid knob. I also like building that circuit into guitars. Like this one:
So it's been a grand week, but a hectic one. Thanks for reading this far. Next week I promise a proper post, and not another collection of … odds & ends.