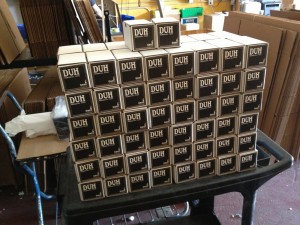 Wow — I can't believe my eyes! After years of planning, scheming, and screwing around, my very first batch of production fuzz pedals has arrived at my distributor, ready for sale. Will they gather dust or sell like hotcakes? That depends on you, dear reader!
You can read about the Duh Remedial Fuzz, hear a demo, and place orders from the product page at Vintage King. (For now, Vintage King is my sole distributor.) If you've been following my videos, you've heard Duh already — I've got the circuit mounted inside some of my favorite guitars, including the Hello Kitty! and lipstick-tube Strats.
Excuse me for quoting again from the great review I got in Guitar Player — I'm just a proud pedal papa! Have a cigar.
"Remarkable … responsive dynamics and simultaneously fierce and expressive tone. This is a pedal that doesn't give up even one less-than-spectacular sound. It reminds me of '60s records where the fuzz sound jumped right out of the grooves and changed my world." [Editor's Pick Award recipient.] — Guitar Player magazine, 2014