Premier Guitar just posted my new article on three favorite electric guitar wiring mods. The concepts won't be new to anyone who hangs out here — I've pretty much flogged them all to death! But the new article includes the step-by-step walkthroughs that I never got around to creating for this site, and PG art director Meghan Molumby created beautifully clear tech diagrams like this one: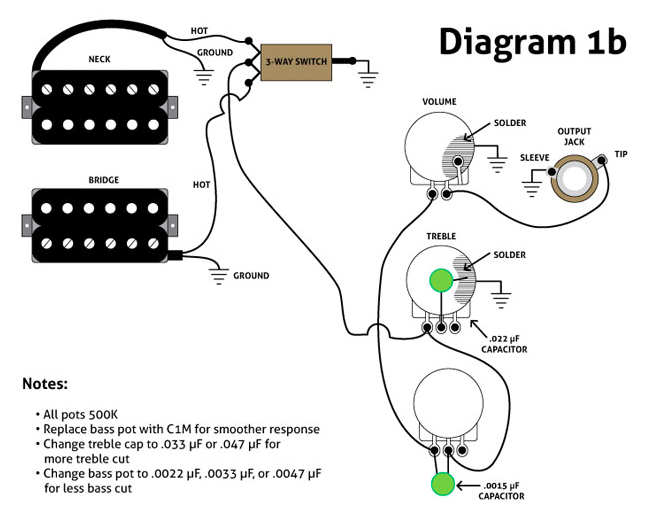 The descriptions and instructions in the new story are clearer and more detailed than my original posts here, plus I've refined some details, so I suggest working from the new PG versions.
My three choices:
Yup, the ol' PTB tone control, the coolest mod I know, at least for players who love distortion. The new version of the project uses the 500K pots you probably already have in your guitar rather than the more eccentric G&L values.
I also revisited the Strat version of the "Nashville-style" Tele wiring popularized by Brent Mason and other Music City cats. It performs brilliantly in a Strat, and IMHO its benefits (vastly more blended-pickup options plus a musical and intuitive control layout) for outweigh the costs (loss of the middle-pickup-alone setting, cost of a 3-way switch). Not to launch a protracted Strat-vs.-Tele battle, but I love the whole notion of "Tele-fying" a Strat via wiring, control layout, and pickup choice.
In the article's comments thread, several savvy readers also mention Strat wiring systems that provide the sounds of the Nashville mod without sacrificing any others. They're right — but the more I mess with this stuff, the more I value simplified operation. I'm less concerned with having all options than with having the coolest ones, ergonomically organized. Still, there are many ways you can go here.
Finally, I'm once more beating the dead Varitone horse exploring variations on Gibson's Varitone concept, updated for modern players. I added a new twist in the PG story: deploying these ideas via toggle switches, rather than a big, clunky rotary switch.
It was fun when PG editor Shawn Hammond asked me to choose my favorite mods. It was easy to decide though — these are the three I keep coming back to, and all three deliver dramatic results, unlike many better-known mods.
So which electric guitar mods would be on your short list? Wiring, hardware, whatever. How do you make your guitars cooler?