In comments to a recent post on 3D-printed guitars, we were discussing the pros, cons, and general aesthetics of instruments molded from plastic. But this isn't exactly a new idea.
Back in the 1950s, luthier Mario Maccaferri conceived a line of plastic guitars and ukuleles. (This was many years after Maccaferri designed the D-hole Selmer guitars that will forever be associated with the Gypsy jazz of Django Reinhardt.) These plastic guitars were never very popular, and they're not particularly valuable today.
I bought the one pictured here a few years ago at one of the music shops in London's Denmark Street (I forget which one). I paid a couple of hundred bucks, and felt like a chump.
But I've grown attached to this guitar. It's lovely to look at, and it plays great. The neck is substantial yet comfy, and it intonates well throughout its range. The tone isn't warm, complex, or rich. But the Maccaferri has a cool, lo-fi character this sits well in a mix. I also like using it to double conventional acoustic guitars — the sharp, percussive tone adds a rough, aggressive edge.
Have a listen:
One thing that fascinates me about this guitar is the contrast between its "modern" plastic fabrication, and its quaintly archaic design details. There's something vaguely Art Deco about the bridge assembly: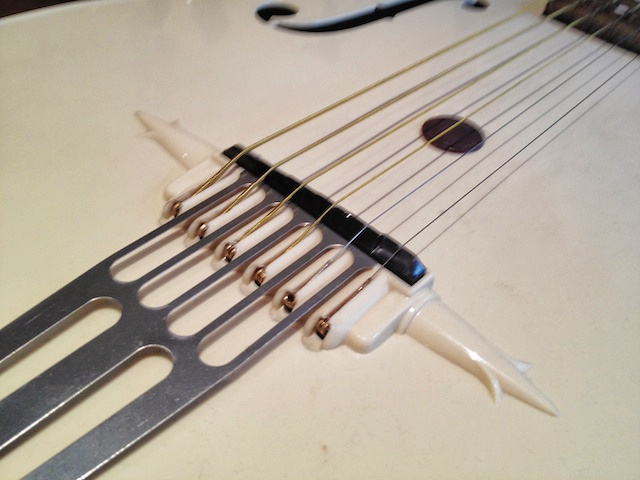 And check out the detailing on the primitive friction pegs: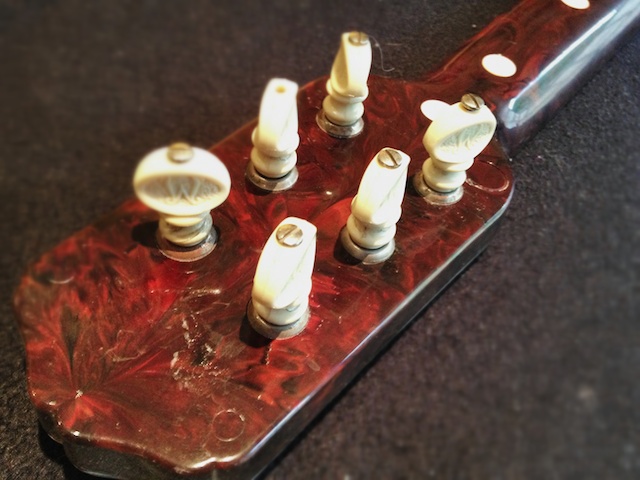 I tell you, man — they don't make cheap-ass plastic guitars like they used to!