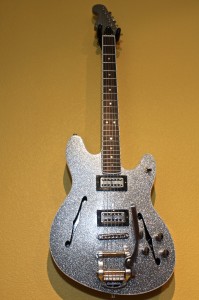 I just completed my third DIY guitar experiment using Warmoth parts. This one is a wacky Fender/Gretsch hybrid with a semi-acoustic Fender Starcaster body, a reverse, angled Strat neck, and various Gretsch-like elements, including TV Jones Filter'Tron pickups, a Bigsby/Vibramate vibrato, and a vulgar silver-sparkle finish — a tribute to the Gretsch Silver Jet, and the basis for this new guitar's name: Kitschcaster.
Mind you, it sounds nothing like a Starcaster. I ordered the body (which Warmoth calls the Mooncaster) in warm-toned korina, and the neck is mahogany. (Fender used bright-sounding maple for the original necks and bodies.) True to form, the Gretsch-style humbuckers provide a percussive, "plinky" attack quite distinct from PAF-style pickups. The Bigsby assembly also nudges things further from Fenderland. But I always dug the Starcaster's offset semi-acoustic body, and I thought it would make a nice platform for my latest platypus.
As before, I'm 100% delighted with Warmoth's work. The finish is flawless (correction: was flawless till I dinged it), and everything fit together beautifully. The only hurdle came when installing the wiring. I failed to take into account the body's thinness, and I didn't have enough room to accommodate all the big push/pull and dual-concentric pots I'd planned to deploy. The comic highlight of the build came when I somehow managed to force a standard-sized pickup selector switch into the narrow lower horn. I disconnected a wire while doing so, and then found myself completely incapable of removing the switch. I took it to repair genius Gary Brawer, whose first comment was, "How did you get this in here? And more important, why?" But he managed to free the trapped part, and then he installed a cunning little access cover. Go, Gary!
I'm especially besotted with Warmoth's "Clapton" profile necks, which I've used in all three of my builds. They have a pronounced V shape that feels so comfy in my left hand, and provides relief for my left thumb joint, where, sadly, I'm feeling my first tentative twinges of arthritis. It's a trip having three radically different guitars with identical neck profiles. I dig the sleek, comfy body as well, and I love its ability to generate musically coherent feedback.
Anyway, consider this a work in progress. I'm still fussing with the tone circuit. (If I can find suitably sized rotary switches, I want to try a sort of "double Vartitone," with separate treble-cut and bass-cut dials. If it works out as as planned, I'll do another post on it.) I'll also probably jigger with the built-in distortion, taking off some of the treble. Like my Bigsby equipped Les Paul, the Kitschcaster can have overly aggressive highs. Something about the combination of the Bigsby hardware and flatwound strings makes certain notes come screaming out of the amp. Both guitars benefit from a carefully controlled touch.
But even now, I'm really stoked about this fun, cheesy-cool instrument.