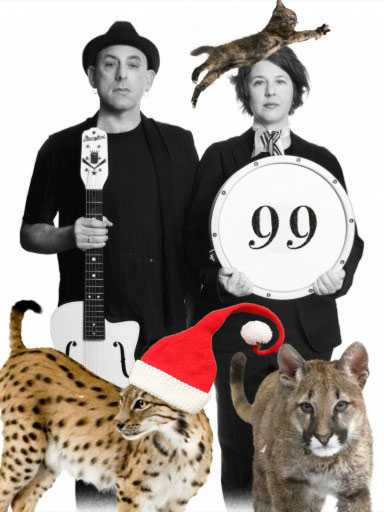 UPDATE: Here's a direct link via SoundCloud. The file is downloadable for free. Sheesh — never occurred to me that folks might, like, actually download it and overwhelm my feeble little DropBox account!
While most people are baking cookies or lining up at the grocery store for 45 minutes to buy those frickin' chives they forgot the other day, Dawn Richardson and I just put the finishing touches on Mental 99's chaotic cover version of the Doors' "Hello, I Love You." (Mental 99 is our digital guitar/analog drums duo band.)
Have a free copy on us! Grab it here. (Download available.)
Why? Because we love you, man!
Seasons best from Mental 99!
(Nerd details: all guitar tracks played on my James Trussart Steelcaster though Apple's MainStage software. Drums tracked at Fantasy Studio A, Berkeley, California, by Jason Carmer and Alberto Hernandez.)