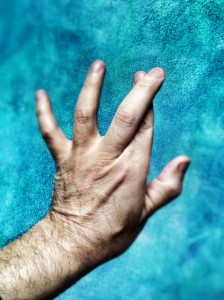 I tend to regard the New Year's resolution like New Year's drinking: not necessarily a bad tradition, but one I feel no guilt about ignoring most years.
But since I have some specific musical goals in 2013, I figured I'd share 'em — and open the floor to anyone who feels inspired to disclose his or her sonic goals for the coming year. Please post your personal promises to comments!
Here's my short list:
• Become fluent with music notation software. After dabbling with Sibelius for a decade, I'm going with Notion because of its cool iPad integration and relative simplicity, plus its awesome guitar-oriented sister program, Progression. (DISCLOSURE: I've been working with a free copies of both apps as part of the paid work I'm doing for Fishman's upcoming TriplePlay MIDI guitar system, though Notion did not solicit this "endorsement.") My plan is to include a lot more written music (and tab, of course) on this blog.
• Revisit and revamp my digital guitar system. I've been using pretty much the same laptop-based digital guitar rig with my band Mental 99 for a couple of years now. I want to try a different computer, a different interface, and (here's the hard part) update hundreds of sounds, using some cool new apps and hard-won techniques.
• More sound design! I plan to launch a "create a new sound each day for a month" project, inspired by National Novel Writing Month, wherein thousands of literary procrastinators commit to producing a vast amount of content in an absurdly short time span. (In fact, I wanted to announce it today, but I've got too much other work in the next few weeks in advance of the NAMM show. (Anyone interested? The idea would be to create a new guitar or bass sound — new for you, anyway — each day, and, I hope, record a snippet to share. February, maybe?)
• More hanging out here in real time. I'd like to reinstall a chat app on this site, and schedule some regular hang time.
• More tonefiend DIY projects. I've got a backlog of cool ideas. Backlogs suck.
• Figure out a way to sell my crap stuff. I've come up with a bunch of analog pedal designs I love, and I want to bring them to market. I'm also brainstorming some interesting digital wares for guitarists (and the engineers and producers doomed to recording them). Plus, I'd rather pimp a few pedals than uglify this site with hideous web ads. I've got enough hideous visuals already without Google's help!
The usual resolutions go without saying: Being less of a dick. More appreciation of things deserving more appreciation. Leafy green vegetables. You know.
So what are your musical hopes and dreams for 2013?