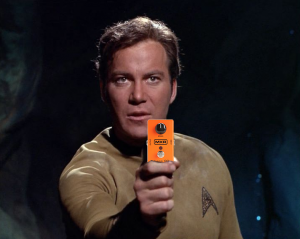 UPDATE: My Premier Guitar Heptode Virtuoso review is live. Read and listen here.
I've got phase shifters on the brain, especially after encountering a couple of truly stunning ones. I just wrote a review for Premier Guitar of Heptode's Virtuoso phaser, a superb clone of the old Maestro PS-1A. (I'll link to the review when it goes live.)
It took me back to my Pleistocene pre-teen years, when I once spent hours in my local music shop playing an electric nylon-string through a big-ass PS-1A mounted on a music stand. Despite its size, it had few controls — just big colored switches that could have been swiped from one of the era's cheesy home organs. It sounded glorious to my 12-year-old ears. I've never since held such a high opinion of my own playing.
I haven't played a PS-1A since then, but the Heptode pedal took me right back. It really is a gorgeous-sounding phaser, and one that vanished soon after the debut of the cheaper, smaller, and awesome-sounding MXR Phase 90. The sound captivated me all over, though I'm not sure if I actually like it more than the Phase 90, or if it just sounds so cool because it's a less familiar color.
I dug out a few other favorite phasers, like the $89 BYOC Phase Royale that usually lives on my analog pedalboard. It's yet another brilliant DIY kit from BYOC's Keith Vonderhulls. It's basically a Phase 90, but with all the cool mods, like mix and resonance controls, plus a six-stage phasing option. (The Phase 90 and the Uni-Vibe are four-stage, while the Maestro is six-stage). It's a fun build, and an excellent next step for DIYers who have built a few fuzzes and are ready for something a bit more challenging.
I concluded my little phase-fest by unearthing my old Lovetone Doppelganger, a bitchin' dual-LFO phaser from the late '90s. Not to be confused with today's Lovepedal brand, Lovetone was a British company run by Dan Coggins and Vlad Naslas. They specialized in large-format pedals with an almost absurd number of controls. (Their brilliant slogan — "Big Pedals to Trip Over" — is rivaled only by Zachary Vex's "Crazy Effects for Rich People.") I'd flip out when each new Lovetone pedal came in for review at Guitar Player. Even then, they were expensive, usually in the $400-500 range. Now, of course, they're obscenely rare and valuable. I bought as many review models as I could afford, and to this day I regret not purchasing their Meatball, Wobulator, and Brown Source. I did, however, snag the Big Cheese, Flange with No Name, Ring Stinger, and this guy:
I haven't heard the Doppelganger in years, and it was interesting to revisit it. See, while I always loved the ideas behind the Lovetone boxes and was happy to own them, I'd found that I just didn't tend to use them a lot for gigging and recording. For me, they had tons of cool sounds, but often not quite the right one. But I've gotten better at dialing in tones in recent years, and really dug the sounds I got yesterday while making the video. Maybe it just took me 15 years to learn how to wrangle these beasts!
Anyway, the Doppelganger is now a Museum of Lost Effects inductee, and it'll be joined soon by its big-box brothers.
Want to read more about these mad scientist stompboxes? The Lovetone site is still live, though they only seem to be selling spare parts and repair services. Here's a nice blog post on building a DIY Big Cheese. And there's a Lovetone wiki at diystompboxes. It's still kind of sketchy — but maybe we can help fill in some of the blanks.
So let's get high talking about the phasers that stun us! As the Small Faces expressed it in "Itchycoo Park," the first big hit to feature phasing (via tape manipulation, not stompbox):
I feel inclined to blow my mind
Get hung up feed the ducks with a bun
They all come out to groove about
Be nice and have fun in the sun
It's all too beautiful