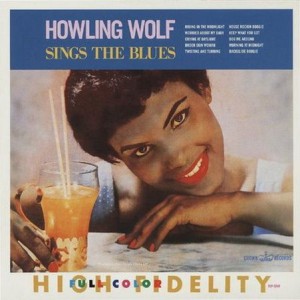 My pal Josh Hecht is making a documentary on Howlin' Wolf. Josh, a noted engineer and audio instructor who came of age hanging out in Chicago blues clubs in the '60s and '70s, has corralled great interviews with the likes of Sam Phillips, Jimmy Page, and the late Hubert Sumlin, Wolf's longtime guitarist. He also speaks with younger Wolf fanatics such as Dan Auerbach and Kirk Hammett. This work-in-progress will be cool indeed.
(Don't be surprised that Kirk is a Wolf worshipper. He's an extremely well-rounded listener, a lifelong guitar student, and an exceptionally cool and smart dude. Long after he became a star, he studied music a San Francisco State University, where Josh was one of his instructors. Josh shot cool footage of Kirk in his practice room, playing "Smokestack Lightning" on a funky old Epiphone — a Coronet, I think.)
Josh dropped me a note yesterday, telling me he was going over to Kirk's to shoot additional interview footage, and asking whether I had ideas for further questions. Here's what sprang to mind:
Many of the interviewees point out the things that rock drew from from Wolf: the riff-based composition, the power and aggression, the distortion. But it's also interesting to consider the ways later players veered from Wolf's path, and ponder what was left behind.

1. Take groove: Wolf's rhythms are powerful but rubbery. The beat wobbles and floats like surfboard. The note placement floats relative to the beat, like a skateboard atop the surfboard. Today's players are more like slot cars speeding along a pre-carved groove. We're metronomic and predictable in comparison, even when not performing to click. Bands play together in tight lockstep, favoring even note values and motoric rhythms. Where did the looseness go?

2. Or take distortion: We've been in an overdrive arms race for decades, using fuzz pedals, heavier amps, aggressive signal processing. But doesn't the relatively light distortion of Wolf's guitarists permit tonal nuance, dynamic range, note-per-note color we can't equal? So many of our tones are always on 10, squeezed to maximum density like toothpaste. What did we surrender to get there?

3. Or phrasing: Consider, say, Sumlin's solo on "Shake for Me," full of oddball phrases of uneven length. Today's players tend to lock into a single type of vibrato. In "Shake," there aren't even two notes with identical vibrato. He smears in and out of notes in ways no one seems to do these days. It's like we're punching out notes on an assembly line, while Sumlin is carving each one individually from wood.

What happened? How might it have gone differently? Might any of those aesthetics return?
I have no idea whether Josh will use my questions, and if so, what response they may elicit. But what do you think?
Some inspiration:
Sumlin's solo above isn't quite as awesome as on the studio version, which may be my fave solo ever. (God knows, I've stolen from it often enough.) But still.