My incoherent headline is inspired by one of my favorite music quotes, from the 1947 film The Song of the Thin Man: Detective William Powell is pursuing a clue based on a classical music theme, and suspicion falls on a hipster jazz musician. Powell asks another jazz musician whether the suspect was the sort of player who would use classical themes in his solos.
Absolutely not, sniffs the musician: "Swingin' the classics is strictly off the cob! A gate who knows his dots takes his Beethoven and Brahms straight."
Vintage translation: "It's corny to mix classical and jazz. A swinger who can read music tends to prefer classical music in its unadulterated form."
Modern translation: "Fusion sucks. Gimme the pure shit."
Do you know your dots? Do you care? I happen to be a dot geek, and I don't regret it. But really, it's not that big a deal. And if I rattle off my favorite non-classical musicians (especially guitarists), well, the vast majority ain't readers. I wish I could play as well as any number of guitarists who wouldn't recognize middle C if it poked them in the eye.
But I've never become especially adept with music notation software. I was a Sibelius user for a few years, but since Apple's Logic became my primary DAW, I tend to use the limited but convenient notation tools built into the program.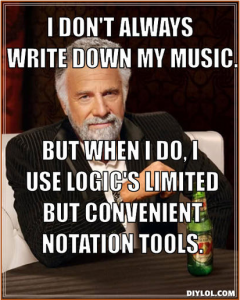 My problem is I never became fluent enough with any program to make the notation process faster than working by hand — though I've gone in deep enough to appreciate how, given time and practice, software notation could be way faster.
I definitely wish I'd had these tools when I was a student musician, mostly for the realtime music playback. As a kid I couldn't even have imagined a tool that let me hear my notes as I wrote them down. That strikes me as the ultimate theory and ear-training tool. I could go all grandpa on you and say I benefitted from having to hack out everything I wrote on the piano, but I'd be full of crap. The modern options are better.
I just received a review copy of a new program that's making me contemplate getting back into notation software. It's got some extraordinary features, such as super-cool iOS integration, not to mention a sister app specifically for guitarists. (No, it doesn't feature only whole notes! Shut up! I'm talking tab.) It's also significantly cheaper than its rival programs. I'll be checking it out soon, and I'll share my experience.
So who reads? Who doesn't but wishes they did? Who does and wishes they didn't?