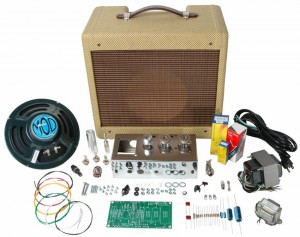 When you make DIY stompboxes powered by 9-volt batteries, your biggest fear is a solder burn (or dropping your drill on your iPad, but that's another story). DIY amps are different: AC voltage can kill you, so a klutz like me approaches amp builds with caution.
Which brings me to one of the great things about Tube Depot's Tweed Champ Vacuum Tube Amp Kit: the fantastic assembly manual. Other great things include the price ($499, roughly half the price of a non-kit Champ clone of comparable quality). The design (which follows the original circuit, but substitutes an intelligently designed circuit board layout for the original turret board). And most of all, the tone.
I've got lots more to say about the kit, the fun I had building it, the lore of the 5-watt '58 Champ, and the pros and cons of Class A amps (the Champ is the only Fender classic that merits the classification). But first, have a listen!
The Champ Mystique. Let's start with the tone. The Champ, with its single 6V6 power tube, is pretty much the only Class A Fender classic. (For a nice, clear explanation of Class A vs. Class A/B, check out this short Guitar Player article on the topic by the ever-reliable Dave Hunter.)
In sonic terms, it translates into the amp's chiming harmonics — they practically crackle. However, that excitement comes at the expense of the tightness and focus of, say, a blackface Fender.
Another attribute is the circuit's extreme dynamic sensitivity. You can crank the amp's single volume knob and control the overdrive from your volume control — or just your touch. I can't think of another amp that lets you transition so easily from sparkle to splatter solely via finger pressure. It's expressive and exciting.
Meanwhile, the amp's modest wattage makes it easy to generate power amp distortion at relatively low volumes. When you crank it, it doesn't sound like you're playing through a distortion pedal. It sounds like the amp is about to explode.
That great tone and thrilling dynamic response have made the Champ not only a beloved practice amp, but a favorite studio tool as well. Many players have conjured big, big sounds from this little box — and none more famously than Eric Clapton and Duane Allman on the Layla album (though sources disagree about whether they used tweed Champs, silverfaces, or both).
The Tube Depot version. I've never owned a vintage tweed Champ, but I've been lucky enough to spend quality time with several pristine originals, and this kit version puts you right there. It adheres to the original circuit, but relies on a circuit board in lieu of the original's turret board. While this has no bearing on the sound, it makes construction faster and substantially more idiot-proof. Likewise, the amp uses no arcane or NOS parts — just quality modern components equivalent to what you'll find in many boutique amps. Same with the substantial cabinet and hardware. The speaker is an 8″ Jensen MOD. The wire is modern stuff, not vintage-style cloth push-back. (While they don't advertise it on their site, Tube Depot also sells a turret board version of the kit on request.)
I'm a massive sceptic about most "mojo" parts, and I certainly can't find fault in the way these modern components perform. Yes, a 55-year-old amp sounds different, but I suspect that has more to do with time-worn parts than with some overpriced capacitor.
Building it. Besides, details like that don't matter much if you can't build the thing, right? And that's where Tube Depot's kit really shines. I'd previously built two kits from Ceriatone, clones of a blackface Vibro Champ and a Marshall 18-watt. They turned out fine — but Ceriatone, like most other clone vendors, offers only bare-bones assembly help. But Tube Depot's Rob Hull has crafted a superb 40-page manual with precise instructions and copious photos. (You can check it out here.) It never feels like you're building an IKEA end table with a name like "Snørker." Hull goes out of his way to provide interesting details, savvy assembly tips, and basic electronics info suitable for first-time builders.
The project design promotes a tidy build. The clever circuit board layout positions all wires as close as possible to their off-board destinations. The guide specifies ideal wire lengths. My Champ build is far from perfect, but I'm not ashamed to post a pic of it here, which is more than you can say for my previous DIY amps.
For a former middle-school shop class dunce like me, the trickiest chores were mechanical, like drilling holes in the cabinet and chassis. I cleverly managed to screw up a couple of measurements, but it was nothing that an extra hole or two couldn't fix (plus some large washers to hide the scars).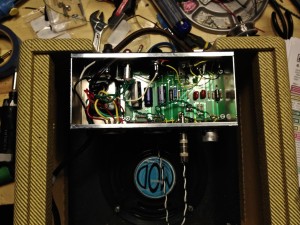 Conclusion. I'm thrilled to bits about the way this amp sounds, looks, and feels. I can't wait to record with it. (I'm especially eager to try it out as the top layer in a "tone sandwich" with a darker, tighter amp shoring up the lows.)
The build was a blast. This would make an excellent first amp project (though if you've never attempted any DIY electronics, I'd make a few simple stompboxes before tackling an amp). The documentation sets the gold standard for DIY amp kits. It not only increases your odds of successfully completing the kit, but prepares you for all those other DIY kits that lack such fastidious instructions.
If soldering an amp together sounds like your idea of a Saturday well spent, I highly recommend this great-sounding, thoughtfully conceived kit. It's an excellent way to tap into an iconic amp sound at a decidedly sub-iconic price.
(DISCLOSURE: Tube Depot provided a free kit for this review.)