Yesterday we lost a dear friend—and one of the most unique musicians of our lifetimes. Everyone who knew Ralph Carney is mourning the death of a kind, funny, and just plain loveable guy. But you didn't have to know Ralph personally to appreciate his mad genius. (If you're unfamiliar with Ralph and his music, check out his Wikipedia page.)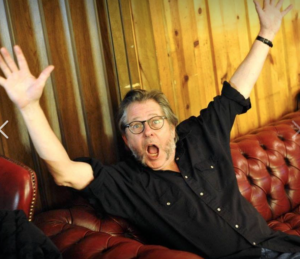 As I write, Ralph's Facebook page is still up, and it's overflowing with heartbroken tributes. Each testimonial is uniquely touching, but they all communicate the same message: Ralph was a beautiful man with a beautiful musical mind, and we're going to miss him like hell.
It's our nature when we lose loved ones to cite their uniqueness with phrases like, "We won't see his like again," or "After they made him, they broke the mold." But man, have those sentiments ever been truer than in Ralph's case?
I met Ralph in 1991, when I gave him a lift to my very first session with Tom Waits, recording the soundtrack for Jim Jarmusch's Night On Earth. (Ralph didn't drive. If you ever played music with him, chances are you gave him a lift at some point.) I knew who he was, and I was in awe. He'd played on Waits's Rain Dogs, my favorite album!
But Ralph, of course, was the least pretentious man ever to draw breath, and I immediately dug the guy. That was also the day I met cellist/composer Matt Brubeck, and before long the three of us were playing together as the Oranj Mancinis, later the Oranj Symphonette. (At various times, the band also included drummers Kenny Wolleson, Scott Amendola, and Patrick Campbell, plus keyboardist Rob Burger.)
Ralph and I went on to play together on a half-dozen or so Waits albums and many other projects, from a spoken-word record by the late Kathy Acker to clubbo.com, the massive "hoax record label" project. He and I scored two feature films together. Once Ralph even called me to play on an Allen Ginsberg project, but I was away on tour, dammit.
But Oranj Symphonette is where I truly got to know Ralph's freakish musicality. I paused for a moment before typing the word "freakish," but I can't think of a better adjective. Ralph simply didn't create music the way most musicians do.
Two things everyone knows about Ralph: He was funny, and he played a lot of instruments. How many? Depending on how you tabulate, somewhere between 30 and infinity. Basically, he conjured beauty, comedy, and tragedy from anything he touched. Ralph's musical humor varied from sublime to fart-joke vulgar. Sometimes it was wildly inappropriate, like the time Matt Brubeck had hushed the audience with an exquisitely delicate cello solo—until Ralph started honking on one of his duck calls. But most of the time he was left-field brilliant, playing unlikely things on unlikely instruments in ways you or I would be unlikely to do in a million years.
In Oranj Symphonette, I had the privilege of being the weakest player in the band. (Serious musicians understand why this is a privilege, and anyone who heard the group knows this isn't false modesty on my part.) Guys like Matt, Scott, and Rob are superhuman players with deep, formal training and sophisticated taste and restraint. But Ralph was anarchy squared. He literally couldn't be predictable—his fidgety, free-associative mind wouldn't permit it. If you wanted a musician who could sight-read perfectly or nail the same part identically over and over on command, Ralph was not your guy. His bag was unfettered inspiration.
Ralph's sense of humor was as uncommon as his musicianship, and the two traits were closely related. It was often through jokes that I got the deepest insight into how Ralph's mind worked.
Once, backstage at a Latin Playboys concert, someone (one of the Los Lobos guys, I think) mentioned that he'd moved into a suburban-style house, and how weird it was to have a lawn. "Why can't we all just get a lawn?" Ralph asked wistfully, channeling a dyslexic Rodney King, Jr.
Another time, I could practically see his right brain pulsing: Oranj Symphonette was playing a string of gigs across Canada as part of a national jazz festival. Concertgoers would sometimes request autographs, as if we were celebrities or something. At one point a nice couple approached us. "Can you sign our program?" they asked. "We voted for you in the jazz poll!"
Under his breath Ralph muttered, "Jazz poll … poll … Pol Pot. Can you sign our skull?"
It was hilarious. And sick. And random. And brilliant. And exactly the sort of free-associative backflip that Ralph performed every 10 seconds or so while improvising.
Ralph loved playing the musical clown, but he was a profound, Chaplin-esque clown whose comedy was rich in pathos and melancholy. He embraced styles that can be hard to listen to with a straight face, like klezmer and old-timey hokum. But he never played them strictly for laughs. He was a sensitive, emotional guy, and you heard it in every note he played. (Except maybe the duck calls and slide whistles.)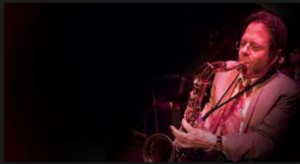 When we say someone has no filters, it's often a left-handed compliment, implying rudeness and lack of concern for others—in a word, dickishness. Ralph and filters never met each other, but he was aware of their existence. He was unfailingly kind and considerate and always generous with his time and talent. His filter-free creativity was a joy to all.
I hadn't played with Ralph since he left San Francisco for Portland a few years ago, though we kept in touch via Facebook. Often it was about politics. Like me, Ralph loathed Trump and everything he represents, and he expressed those feelings with characteristic humor/pain. And of course, Ralph gigged and recorded furiously literally until his last day. One of his Portland pals posted video of a gig from a couple or nights ago, and Ralph uploaded several quiet, elegiac pieces to his Bandcamp page within the last few days.
I was in Portland a few weeks ago, playing a gig with Jane Wiedlin's new band, Elettrodomestico. Ralph and I failed to connect, but we swapped messages the next day. He told me how much he loved Portland. "It's amazing here for music," he said. "It's like San Francisco 20 years ago!"
Today I'm thinking a lot about San Francisco 20 years ago—and the beautiful soul who helped make it such a memorable time. Farewell, my dear, irreplaceable friend. Everyone who ever met or heard you is going to miss you terribly.
In tribute to Ralph, I've posted both out-of-print Oranj Symphonette albums — Plays Mancini and The Oranj Album — to YouTube.