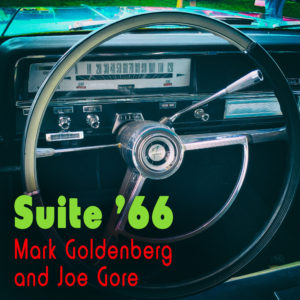 A free EP from we to thee!
Guitar genius Mark Goldenberg and I recently recorded Suite '66, a set of improvised duets on four tunes from 1966, in honor of the 50th Anniversary of one of the greatest years in pop music.
We teased this "release" a few months ago with this rehearsal video. The EP features a more developed version of the same tune, plus three others.
Even if you're not familiar with Mark's name, you've probably heard his playing. Mark has been a leading LA sideman and session player for decades. He's worked with Jackson Browne, Linda Ronstadt, Bonnie Raiit, Waylon Jennings, Chris Isaak, Willie Nelson, Hugh Laurie, Natalie Imbruglia, and most impressively, William Shatner.
Less well known is Mark's beautiful solo style, which resides at the intersection of rock, classical, and jazz. I was instantly smitten when I first heard Mark play in person at one of Teja Gerken's solo guitar events a couple of years ago. Mark's musicianship flabbergasted me, plus we bonded over the fact that we shared the same teacher, the late Ted Greene. (Though I studied with Ted when I was a teen, so much of his wisdom went over my head. Mark, however, worked with Ted after becoming one of LA's most respected players, so he absorbed Ted's insights on a far deeper level.)
Listening to Mark play is sheer musical ecstasy, whether or not I happen to be picking along with him. He's been one of my greatest musical inspirations of the last few years. (Translation: I've ripped him off more times than I can count.)
Listen and download via SoundCloud:
Tech notes: We recorded and mixed this in my basement studio. I'm on the left channel throughout, and Mark's on the right. (There are no overdubs.) My instruments are a Gretsch Spectra Sonic electric baritone guitar (kindly loaned by Xander Soren), a Veillette Avant Gryphon octave 12-string, and a Taylor 150e 12-string. Mark plays two magnificent guitars: his Kenny Hill classical and a Collings 001MH steel-string.
IMPORTANT: This non-commercial recording is shared as a gift between us and our friends. It may not be reused for any purposes, especially commercial ones. We're simply inviting you to listen in on our jam session.