Despite being obsessed with Charlie Christian for decades, I've never played a Gibson ES-150, the guitar he made famous. I've never even messed with a "Charlie Christian pickup," even though it's been a fairly common retrofit ever since the late Danny Gatton installed one in his Tele's neck position. But I've always wondered: Could the C.C. pickup work in styles other than jazz? How would it sound in the bridge position? (The ES-150 had only a neck pickup.) And most of all, how would it sound with nasty fuzz?
Lollar Pickups helped me answer those questions with a loaner of three humbucker-sized Charlie Christian pickups. These differ cosmetically from the originals, lacking the cumbersome mounting hardware and the ornamental top plate. But they're convincing sound-alikes, with similar magnets, wires, windings, blades, and modest output. (Their DC resistance is just under 3k ohms). Here's what I discovered!
Clearly, it's not a pickup for every rock guitarist (though it's perfect for a swing-era jazz sound). Still, I found its non-jazz sounds strange and compelling, and I can definitely imagine using them in the studio. What do you think?
While making comparisons, I spend hours reacquainting myself with Charlie's recordings, of which there are only a few dozen. His career was absurdly brief — it was less than three years from his first recordings with Benny Goodman through his death from tuberculosis (and probably other bad stuff) at age 25. But that was long enough to forever alter the guitar's history.
A few random thoughts about Charlie:
He's got the best audition story ever. Charlie was born in Texas, but raised in Oklahoma City. He grew up poor as fuck in a place as racist as fuck. He played on the street for pennies with his father and brother. When Charlie was 12, his dad died. Charlie inherited his guitar. By young adulthood Charlie was a guitar hotshot, wowing whatever touring talent happened to pass through town. He came to the attention of John "Greatest Talent Scout in History" Hammond, who had discovered Benny Goodman. (Decades later Hammond would further the careers of Aretha, Dylan, Springsteen, SRV, and many others.) Hammond arranged an audition with Goodman.
Charlie reportedly showed up looking like the hick he no doubt was, wearing a pair of gaudy orange cowboy boots. The musicians chuckled — until Charlie plugged in. Goodman, figuring this would all be over in seconds, called "Rose Room," a standard his band performed. Charlie started soloing and didn't stop — the band played dozens of choruses. Goodman instantly hired him.
You can't talk about Charlie Christian (or his contemporaries) without talking about race. Charlie didn't play in Goodman's famous big band, which was all-white. Had they been an interracial, group, no one would have booked them. Across the breadth of American pop culture, black people could rarely perform alongside white people, and if they did, it was usually in demeaning comic roles that reinforced racist stereotypes. Charlie played in two versions of Goodman's small group, the Benny Goodman Sextet, which at various times included such African-American musical giants as pianists Count Basie and Teddy Wilson, vibraphonist Lionel Hampton, and Ellington trumpeter Cootie Williams.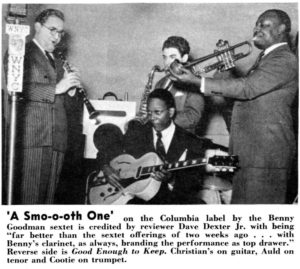 While Goodman wasn't the first white bandleader to hire black musicians, he arrived there far earlier than most of his contemporaries. You can debate the significance: Was Goodman brave to employ black musicians, albeit not in the main group? Or should he have leveraged his celebrity to fight racism? By all accounts Goodman was a mean old bastard, but I tend to give him credit here, given the times. It wasn't until after the war that Jackie Robinson joined the Brooklyn Dodgers and President Harry Truman desegregated the U.S. armed forces — two events widely regarded as opening salvos of the civil rights movement.
Anyway, it's no accident that we have no Charlie Christian video footage whatsoever.
We have absolutely no insight into Christian's artistic development. From the listener's perspective, Charlie materialized fully formed. His very first sessions with Goodman are as masterful as the studio recordings and jam session tapes from near the end of his life. You can't point to a recording and say, "Aha! This is where he really busts out as a soloist," or "This was the first time he employed advanced chromaticism over dominant chords." He did his thing perfectly from Day 1, and he kept doing it till he died.
Charlie was a futurist. Charlie found fame at a crisis point in jazz history. War was looming. In just a few years most big bands would die like dinosaurs. Small combos were the future, as the impending bebop movement would prove. And Charlie was at the epicenter, jamming with young radicals such as drummer Kenny Clarke and pianist Thelonious Monk at Minton's, a Harlem nightspot widely cited as the birthplace of bop. You can hear many bop characteristics in the bootlegged Minton's jam sessions that have survived, particularly this one:
This is a crucial recording. On Goodman sessions, Charlie might play the occasional 16-bar solo. Here he just goes off, probably not all that differently from how he'd done at that Goodman audition. What a bottomless pit of cool, forward-looking ideas. Those altered tones over dominant progressions, that asymmetric and unpredictable phrasing. And my very favorite Charlie technique: harmonically outlining chord changes a beat or two before the change actually occurs. This partially accounts for the bullet-train momentum of his solos.
Yeah, he sometimes relied on licks. Charlie definitely makes generous use of several stock fingering patterns, though he always adds enough rhythmic and melodic variation to keep things exciting. This example combines two of his most frequently used patterns: an ascending dominant 9th arpeggio starting on the chord's third, and a chromatic walk-down. You hear the same moves constantly in the blues guitar work of T-Bone Walker, on whom Charlie was a major influence.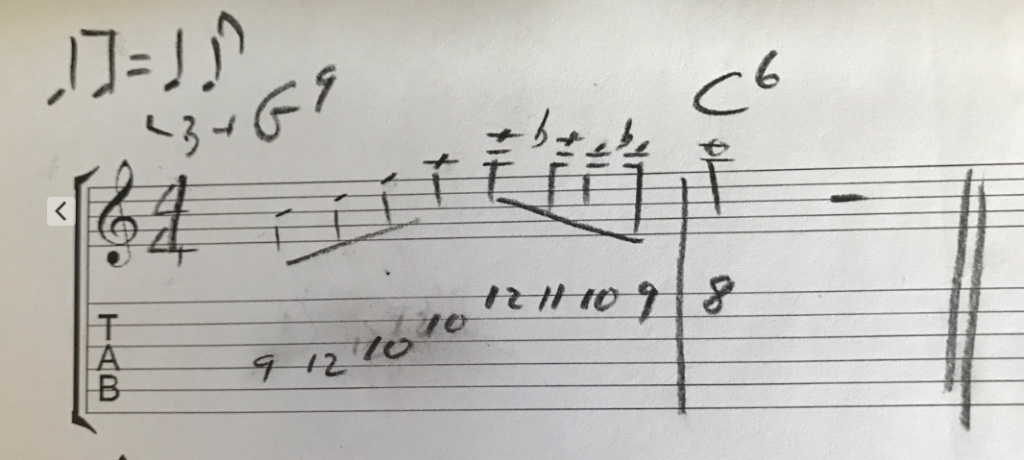 We don't know much about how Charlie evolved into such a genius. And while I generally detest playing Fantasy Dead Musicians League, it's so easy to imagine Charlie connecting with Charlie Parker or young Miles Davis. There are parallels between Charlie Christian's life and that of double bassist Jimmy Blanton, would would also succumb to tuberculosis, three years later and two years younger than Charlie. But not before revolutionizing his instrument.