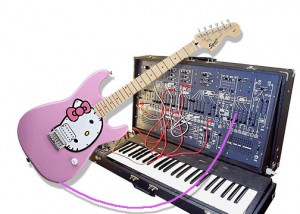 Anyone here ever owned a synth guitar? Not a Keytar, but a guitar fitted with a hexaphonic pickup that transmits MIDI data to external devices? And if so, do you readily admit it?
The synth guitar has had one of the most checkered histories outside of, well, checkers. Since the '70s, many brilliant minds have tried to bridge the gap between the plucked string and the external tone generator. But despite a few notable exceptions (mostly in the prog/fusion realm), guitarists have been reluctant to embrace the technology.
I've had a Yahama synth system (basically a clone of the Roland GK-2) for many years, though I rarely use it. Like a lot of players, I balk at the installation hassle and the ugly, cumbersome hardware. (Plus, I've played keys longer than I've played guitar, so I don't really need a guitar to conjure synth sounds.) Also, those systems are expensive! Many players have been disappointed. Many businesses too — the Avatar guitar synth probably killed off the ARP company.
But I've been thinking about guitar synth again since last January's NAMM show, where Fishman previewed their Triple Play system, a new take on MIDI guitar which I mentioned at the time here. (Here's much more info from the company's Summer NAMM press release.)
I finally got to play a late-stage prototype this weekend. But before I discuss the experience, I need to confide that a) Larry Fishman is a pal of mine, and b) I may be working with his company on the product's documentation and marketing. (My words of praise are 100% sincere — but as always, consider the source.)
Anyway, the Triple Play marks several big improvements over previous hex-pickup systems. It tracks great. The hardware is smaller and less intrusive, with comfy, low-profile ergonomics. It doesn't require proprietary cables or an external "brain," but communicates with your computer via a thumb-drive-sized wireless USB receiver. And it's going to be way cheaper than any previous system (probably around $350 for a package that includes the hardware, a powerful software interface, and a buttload of bundled third-party software).
But the other reason I'm getting excited has less to do with the Triple Play's innovations than with the ways other music technology has evolved since my last stab at synth guitar. Unlike some past systems, which were welded to proprietary tone generators (and their often uninspiring sounds), most Triple Play users will be piloting software DAWs, sequencers, synths, samplers, virtual turntables, lighting rigs, notation software, and such. Given how great-sounding, open-ended, reasonably priced, and just generally bitchin' today's software is, guitar synthesis promises to be more cool, fun, and creative than ever before.
I'll write more about the Triple Play once I receive my own unit. But I'm already stoked about the prospect of integrating it into my MainStage-based laptop/looping rig. (More disclosure: Apple pays me to develop for Logic/MainStage/GarageBand.) In an environment like MainStage, it's going to be easy to create elaborate setups that blend guitar audio with synthesized and sampled sound, with a near-limitless customization and the ability to control both sources on the fly. Yummy.
I've been a mere guitar-synth dabbler till now, so I'm eager to hear about your synth-guitar experiences, good and bad. Also, what are some ways you might deploy this technology in today's head-spinning software world?