Okay, it's not the ultimate lipstick-tube guitar for everybody, but it probably is for me. It's my third lipstick-tube pickup experiment — and definitely my favorite.
You may have heard some of these parts before: I used the neck for all my Mongrel Strat projects, and the Strat-sized Seymour Duncan pickups appeared in my previous lipstick-tube experiments. (I love Duncan's lipstick-tubes. To my ear, they sound way better than the ones in new-school Danelectros.) The new body is Warmoth's Hybrid Tele model, in purple with butterfly stickers. It's très macho. (Better not use if for gigs in Indiana and Arkansas.)
My previous lipstick tube experiments used a MIM Strat body, but I wanted something a little more distinctive, and with a built-in battery compartment (because nothing is a bigger pain than changing batteries in a traditional Strat control cavity). Also, I like how the design evokes both Strat and Tele, since the guitar has three-Strat sized pickups and a whammy, but is wired more like a Tele.
About that wiring: The 3-way pickup selector chooses neck, bridge or both pickups, like on a Tele. Meanwhile, a SPDT switch toggles the middle pickup on and off regardless of the pickup selector, so you get six settings: neck, bridge, neck + bridge, neck + middle, bridge + middle, and all at once. It's a pragmatic variation on "Nashville Tele" wiring with a switch rather than a pot. That means you can't dial in varying amounts of middle pickup—it's all or nothing. But on the plus side, I can jump instantly to an out-of-phase sound from any pickup-selector setting, and it freed up space for the other weird crap I put in this guitar. (Yo, electrical engineers: Don't bother telling me that combined-pickup settings aren't really out-of-phase True, they're not out-of-phase electronically, but they are acoustically, and the distinctive "hollow" sound of combined settings is precisely the result of phase cancellation from two pickups at different positions.)
The weirdest detail is what I call a "cap-fade" tone control. It's an idea I speculated about back in January, and to which many of you contributed cool perspectives. I pretty much followed the scheme in the original diagram: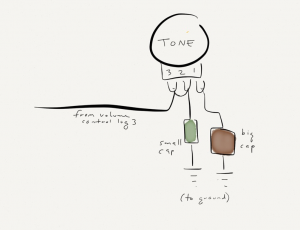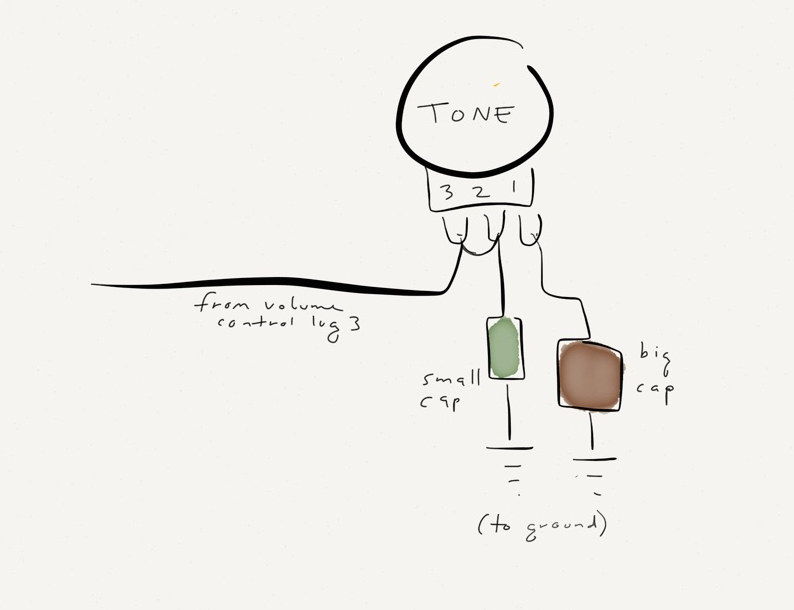 The idea again: Instead of sending varying amounts of signal to ground via a tone cap, the pot here fades between a small-value cap (which defines the minimum cut when the control is engaged) and a larger one (defining the frequency of the maximum cut). In other words, instead of sending varying amounts of signal to ground, this circuit always sends everything above the cutoff frequency to ground, with the pot determining the frequency.
I used a .0022µF for the small cap and a .068µF for the large one. The tone pot is push-pull. Disengaged, you get the loudest, brightest possible tone from the pickups (one you can't technically get with a conventional tone control, because the tone pot always introduces at least some resistance). When activated, the control's minimum setting takes off a bit of high-end "glass" — basically, I chose the value to match the lightest tone-control cut I'd ever be likely to use. Rolled all the way back, the tone is a bit darker than from standard tone-cut circuits with an .022µF or .047µF cap. But you could also approach this in other ways, such as:
Skip the push-pull pot so the circuit is always engaged, but choose a lower value for the small cap, so the tone control has little or no audible cut at its minimum setting.
Use a lower-value large cap, so the maximum cut isn't any deeper than on a conventional control.
Experiment with various pot types. I used an A250K, which feels nice to me. Using a B250K or a C250K would provide the same range of tones, but distributed differently across the pot's range. (The numerical value doesn't make much difference — you could use a 100k or 500k pot just as easily.)
But why bother?
Because to my ear, the treble-cut tones sound meatier and less anemic than in a conventional tone control. The idea is similar to a Stellartone ToneStyler, a switch that selects from a dozen or so caps of ascending value. As here, you don't vary the amount of cut, but the frequency of the cuts. This system achieves a similar sound with just two caps (and a lot less expense). Also, the maximum cut on ToneStylers isn't as extreme as I like, though the ToneStyler may be a better match for players who seldom use ultra-dark tones. Another ToneStyler advantage: The pot is detented, so you can "click" into an exact setting. Here, with the pot continuously variable, it can be hard to replicate an exact setting in a hurry.
(I've been meaning to make some measurements to quantify how, exactly, multi-capacitance tone controls sound different from traditional ones. I suspect it has something to do with resonance at the cutoff frequencies. But for now, I'll just be touchy-feely and say that it feels like there's more energy in the treble-cut settings. Dark tones are dark, but they don't seem as "smothered.")
And then there's the onboard booster, based here on my soon-to-be-released Cult pedal. It's a simple overdrive with a single germanium transistor, conceptually descended from the Dallas Rangemaster, though it doesn't sound much like one. (It's not really a treble booster, no component values are the same, the tonal range is shifted dramatically, at the gain control works in an entirely different way.) I'm not sharing the schematic just yet, though I eventually will. But you'll get in the ballpark if you follow the ideas in our Fiendmaster project.)
A push-pull volume pot also activates the booster. This position makes it easy to leap instantly from clean to dirty and points between, though as the video shows, dive-bombing the whammy bar can inadvertently bonk the switch and turn off the overdrive. You can locate the switch anywhere and  use a small SPDT switch rather than a push-pull pot.
The two small black knobs are gain and bass-cut controls for the booster. The bass cut occurs at the front end of the boost circuit, where it fades between two input caps of different values, much like the cap-fade tone control does. Again, you can tune this to taste by choosing your own cap values. (I used a .068µF for a beefy high gain sound, and a .0047µF for the shrill, maximum-bright tone.) Remember, lows drive your amp disproportionately, so the small-cap tones are both brighter and cleaner.
I'm pretty stoked about this guitar, because it does all the classic lipstick-tube tones plus tons of variations.