No, I don't mean like, "What's better: B-flat or F-sharp?" Rather, is there a single note from a great recording or performance that haunts your dreams?
Here's what go me on the topic: One of my Premier Guitar colleagues, Gary Ciocci, recently turned me on to El Twanguero (aka Diego Garcia), a brilliant Spanish-born, Argentina-based electric guitarist who's created a head-spinning fusion of classic Latin jazz and rockabilly guitar. The only thing I don't worship about the great Afro-Caribbean music of the 1950s and '60s is the fact that it rarely includes guitar. But in Garcia's retro fantasia, it's as if the great Cuban and Puerto Rican mambo kings had migrated to Memphis instead of settling in NYC.
When I explored Garcia's YouTube channel, I immediately clicked on his version of "Cherry Pink and Apple Blossom White," a Perez Prado classic that topped the charts in 1955. (You probably know the tune even if you don't recognize the title — it's been in a zillion movie soundtracks.) I was eager to hear how Garcia would interpret the famous trumpet slur — perhaps the booziest single note ever recorded. (Yes, theory sticklers — I'm using the word "note" to mean a single articulated note, even when it spans multiple pitches over its duration.)
The tipsy note appears right at the top — it's the fourth pitch in the trumpet melody. But it gets boozier and woozier with each repetition, and by its dead-drunk appearance at 2'27", it's amazing anyone's still standing up.
Okay, try to convince me that it isn't the sleaziest note ever! (Just for fun, here's a live performance, where you can see what Prado looks like when emitting his signature grunt.)
How the hell would you render that on guitar without period-inappropriate distortion and locking tremolo? Take it away, Sr. Garcia!
Love it! ¡Bien tocado, Señor!
That got me thinking about other favorite notes. My #1 choice was easy — it comes at the end of this post. But two others also sprang to mind.
George Harrison's "It's All Too Much" used to be considered one of the Beatles' least important tracks, though it seems to have been critically rehabilitated over of the course of the last few psychedelic revivals. It was cut in 1967 between the recording and release of Sgt. Pepper, just when the Beatles were discovering LSD. (It shows). But it wasn't issued until 1969, when it appeared as a throwaway on the Yellow Submarine soundtrack — the first album I ever purchased with my own money. (And I've never recovered from the horror of discovering that side B features no Beatles material — just George Martin's twee orchestral soundtrack.) But that blast of sustained feedback carved its way into my consciousness.
The experts say George played it, though I doubt anyone present was coherent enough to recall. I'm not saying it ain't George, though I can't help noting that whenever you investigate a particularly ferocious bit of Beatles guitar work, the perpetrator always seems to be Paul. (Examples: "Helter Skelter" and the solos on "Taxman" and "Good Morning.") I dunno — maybe acid unleashed Harrison's inner beast.
Another note that's possessed me for decades is from Miles Davis's heartbreaking take on Rogers and Hart's "It Never Entered My Mind." (From Workin' — the first jazz album I bought with my own cash, at age 14.) Man, you could write a dissertation on the first eight bars of Miles' solo, and someone probably has. Even though the notes are few and far between, I dare you to try playing along, matching the trumpet phrasing. But the highlight for me is the sublimely out-of-tune note in the fifth bar of the trumpet head. (It first appears at 0'33" in this clip.)
The performance is in A-flat, and the special note is a very flat E-flat — about halfway to D-natural. Man, how does something so wrong feel so … not just right, but transcendent?
That was my favorite note for many years, until I became a born-again Ellingtonian. Friend/genius Stephen Yerkey turned me on to Ellington's 1938 remake of his own "Black and Tan Fantasy," whose original 1927 version is universally regarded as one of the most important early jazz discs. But the 1938 remake is equally brilliant. Duke's band was at or near the height of its powers. The orchestration is sublime. The piano work is radical. Each solo is a jewel. And then there's THE NOTE.
Now, there's nothing I find more musically distasteful than a cheesy, star-searchin' vocalist wowing the crowd with a long sustained note. I hate it just as much when operatic singers do it (as did many of the great opera composers). And using the national anthem at ball games as a pretext is just plain nauseating.
Yes, THE NOTE is impossibly long and difficult. But there's more here than sheer virtuosity. The painfully slow glissando literally makes you dizzy, as if the world were tilting off-axis. (It's more psychoactive than the Beatles on acid!) It exerts exquisite tension against the backing harmonies, and it lets Duke display his most Debussy-like side in his watery, chromatic piano accompaniment. And the dismount is astonishing: Another wind player would be gasping on the floor, but incomparable clarinetist Barney Bigard (also featured on the 1927 original) concludes with a soft, casual phrase, as if he had all the time and breath in the world. For me, this is the ultimate musical embodiment of "cool" in its most profound African diaspora sense.
Play it, Mr. Bigard! The miracle commences right after 1'15" (but please, treat yourself to the entire performance).
(I know I've said this about 50 times on this blog, but I repeat it whenever possible: In much of the civilized world — Europe in particular — the arts are considered precious, and musicians routinely appear on currency. If Americans gave a crap about culture, our greatest composer would grace the $20 bill, not genocidal Jackson. Though admittedly, there's a strong case for Harriet Tubman.)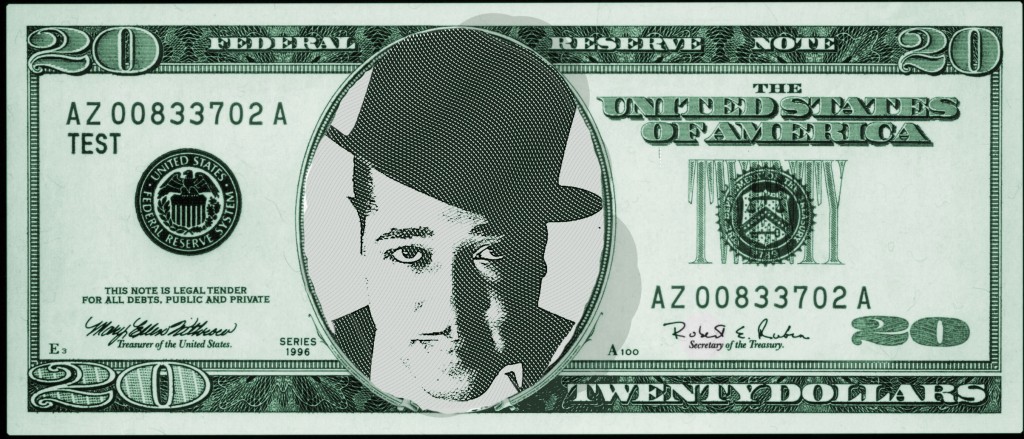 Okay, enough of my yakkin'! What's your favorite note?