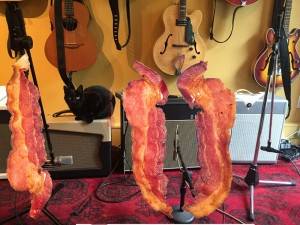 Premier Guitar just posted my column on simultaneously recording multiple amps to create cool composite tones, both by blending their default sounds in varying way, or using only selected frequency "slices" from each amp and assembling them in layers (hence the amp sandwich metaphor).
According to one PG reader, "It ain't a sandwich without bacon." So I Photoshopped in a few slices. :pacman:
What happens when you mix Fender-style Carr highs, Marshall lows, and tweed-like Divided by 13 mids? It sounds something like this.