As if I weren't already blowing enough money on arcane strings, I've got a new obsession: Thomastik-Infeld Plectrum series acoustic strings (which sell for $24 in the U.S.).
If you hang out here much, you've heard me bitch incessantly about acoustic strings. I hate the way most modern strings are all hyped treble zing and blaring volume, at the expense of deep, decisive fundamentals. With due respect to my vegetarian friends, too many strings are all sizzle and no steak.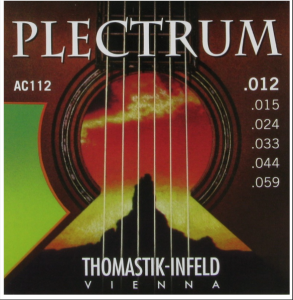 Yeah, bright strings can seem energizing in a cocaine-binge sort of way. But all that glassy presence gets fatiguing. Meanwhile, darker bass strings leave sonic space for the treble strings to shine. Even on my teensy-tiny Martin 0-17, these low strings sing in a warm baritone voice, not like some squeaky, poorly Auto-Tuned teen idol.
This pricy Austrian set features brass-coated steel 1st and 2nd strings, while the bass strings are bronze, but with both silk inlays and flexible steel cores. The flatwound 3rd, 4th, and 5th strings nix finger noise and minimize tone contrasts between wound and unwound strings. The polished roundwound 6th string adds a touch of focus to the lowest register, yet introduces no awkward contrasts on melodies played across multiple strings.
The set is low in both tension and volume relative to most U.S.-made strings. Even though the low E is a chunky .059, it has a soft, relaxed feel that makes me want to linger over notes, shaping them. The harmonic range is fantastic, the dynamic range even more so. They're long-lasting too — this video was recorded three weeks and many playing hours after installing the set.
I'm hooked. Damn it.
(Hey, Mr. Tambourine Man — I don't want you getting your nasty treble overtones all over my acoustic strings, no matter how frickin' jingle-jangle the morning happens to be. Just back off, pendejo.)