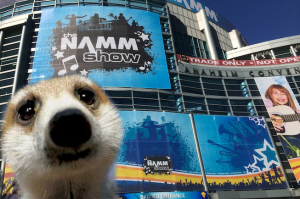 I just drove back to San Francisco from Southern California, where I got to hang out with family and spend a long, full day at NAMM. And while even the longest and fullest of days isn't enough to see half the stuff at the show, I've put together a little slideshow covering some highlights and lowlights.
Per usual, my focus is the obscure and the absurd. For details of the big releases from the major companies, check out the excellent coverage by my Premier Guitar colleagues. (I'm the designated PG reporter for Musikmesse in March, but at NAMM, I had the luxury of stumbling around in a daze, pausing to gape at whatever shiny object happened to enter my field of vision.)
Disclaimers apply:
While I receive no payment or perks in exchange for coverage, a number of folks whose products I mention are friends, clients, or both.
All opinions expressed are strictly my own — especially the obnoxious ones.
You can't hear a frickin' thing in the toxic noise zone that is NAMM, unless an exhibitor provides a soundproofed listening booth or a private suite. I have no idea how most of this stuff actually sounds, nor does anyone else reporting from the main show floot.
Finally, an apology: I couldn't figure out how to embed links within my slideshow captions, so you'll have to do some typing to learn more about these products. Sorry — but I did warn you that this was a half-assed NAMM report!
r
:stupid: