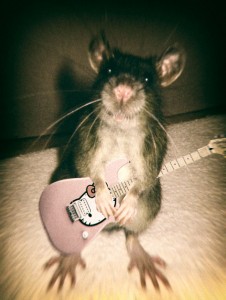 After last week's loudness experiments, and with the sonic carnage of NAMM just days away, I figured it was a good opportunity to dial down the decibels and share an interesting guitar/string combination I've been enjoying for a few months.
Last spring I wrote about several oddball acoustic strings I was trying out. Oddest of all was a set of Thomastik-Infeld Classic S Rope Core strings.
At $34 bucks a pop in the U.S., they're blisteringly expensive, but they have a sound I've never encountered elsewhere. The result is the closest thing to a nylon-string sound I've heard from an ordinarily steel-stringed guitar.
I've had the same set on this guitar since May — they're certainly long-lasting! Now I'm going to experiment with a few other options, but I wanted to document these before swapping them out.
Have a listen:
These strings fascinate me. They convert the guitar into what sounds like a hybrid nylon/steel-string instrument. They permit classical techniques such as rest-strokes, but when you bend them, they feel more like steel strings. The gauges are bizarre: .013 through .039. I've never played anything like them.
With these strings, my Martin is quieter than most classical guitars — more like the volume of Renaissance lute (an instrument I played a lot in my teens, though I haven't owned one in many years). For me, this pairing has the same sort of sweet intimacy. This happens to be the one guitar I keep in my house — everything else is down in the studio. It's quite literally a parlor instrument, and I've loved having a soft, quiet guitar to noodle on. It's sometimes frustrating, though, how quickly these strings "overload" — the notes in the demo that snap and sizzle aren't intentional — I'm just playing a little too hard.
I still consider this is a cool alternative classical sound, but after months of playing, I tend to think this combination would best suit a fingerstyle player who uses a lot of bending, smearing, and slapping. I bet Joseph Spence and Bert Jansch would have sounded great on these, as would Ry.
I may return to these extraordinary strings. Actually, in a perfect world, I'd have two lovely old Martins, one to strung conventionally, and the other strung with rope-cores. And since we're talking "perfect world," what the hell? Two pre-War Martins for everybody! No, make that three!