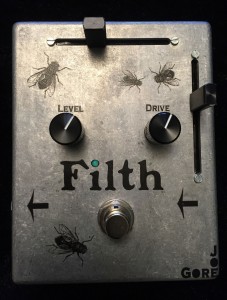 My Filth Fuzz pedal is finally in production and will be shipping within a few weeks. It's one of three new pedals I'll be showing at this week's NAMM show in Anaheim, California. I just finished the demo video, and I'm stoked about how it's sounding.
I'll also be debuting three other new pedals: Gross Distortion, Cult Germanium Overdrive, and Boring Boost & Buff. Filth, Gross, Cult, and are finalized and in production, and should be available from my partner, Vintage King, sometime in February. (Vintage King is also currently the sole vendor of my Duh Remedial Fuzz, released last year.) We're still working out a minor bug in Boring, but it should arrive soon after.
Now, it's not like I can afford a proper booth or anything, so when I say "I'll be showing these at NAMM," I mean I'll be walking around with a bag of merchandise. I'll have a pedalboard with all my products on display at the Vintage King booth in Hall A, but sadly, it won't be set up for demoing — there just isn't enough space. However, my super-cool friends at Voodoo Labs will have a Filth Fuzz on their demo pedalboard, so you can take it for a spin in their booth while checking out the new stuff from that ever-innovative company. (I have no business connection to Voodoo Labs — they're just helping me out because they're nice.)
If you're going to the show and would like to meet up, contact me and we'll work something out. 🙂
Here's what I wrote about Filth on its product page. (If you're allergic to marketing copy, skip ahead, where I share some interesting backstory on how we arrived at the interface design.)
Man, I love those mad scientist fuzzes with too many knobs! I've collected them for decades and used them on a zillion sessions. It got to the point were people were hiring me specifically to make those sort of farting, fried-circuit tones.

But the downside of those complex fuzzes is that they're a little too wide-ranging, with many settings you'll probably never use. It's easy to spend 20 minutes dicking around with the dials without nailing the perfect tone. I've always wished for a wild, highly variable fuzz that was a bit more "curated," with easier access to the tones you're likeliest to use.

That's what inspired the Filth Fuzz. It's only got four controls, but it's a cornucopia of cool, quirky, and usable fuzz flavors.

The drive and level controls do what you'd expect. But unlike many fuzz drive controls, this one sounds great throughout its range. Extreme settings are molten-lava thick. Lower settings are like…slightly cooled lava, maybe?

But the real action is in the two sliders. They're tone controls of a sort, but not in the usual way. Most fuzz tone controls are tone-sucking passive circuits situated downstream from the fuzz effect. But here, the sliders alter the voltages at the transistors, radically changing not only the tone, but also the timbre, response, attack, sustain, and compression. In other words, the sliders radically alter the fuzz's core character, as opposed to simply EQing a single core tone.

TO USE: Set desired gain and output levels. Move the sliders till it sounds awesome.

CAUTIONS: Filth sounds best before any buffered effects. It usually works best at or near the front of your effect chain.

Filth Fuzz was created in San Francisco and is built in Michigan by skilled craftspeople earning a fair wage.
Filth's sound hasn't changed since I concocted the circuit on breadboard a few years ago. but the interface has gone through many iterations. It kept changing even after I sent schematics and prototypes to Tony Lott at Cusack Music (my manufacturer). Here's a pic of three production prototypes:
To dial in tones on Filth, you adjust two highly interactive pots (let's call them x and y), which tweak the voltages going in and out of the transistors, providing many tone variations. The original version used two standard pots for these x/y controls. It worked okay, but the ergonomics weren't ideal. I've found that the fastest way to refine sounds is to move both pots at once over a sustained note or chord, and it was just a bit awkward having to take both hands off the guitar to turn the controls simultaneously.
So I decided to employ a joystick, which lets you adjust x and y with one hand (and it looks pretty bitchin'). The ergonomics were great, and I thought we'd finalized the format.
But then I showed a joystick prototype at the L.A. Amp Show in October, and for the first time I had a chance to sit back and watch other guitarists interact with the device. Players seemed to have a blast with it, but I kept noticing how often a heavy stompbox foot would land perilously close to the joystick's none-too-sturdy shaft.
Meanwhile, we discovered that the the only compatible joystick option cost about $25 per unit — enough to jack the retail cost way up. Also, it was tricky to replicate exact setting via the joystick, which would suck if, say, you were trying to get identical tones night after night on tour. (I knew that when I first opted for the joystick, but I'd figured the fun factor would more than compensate.)
Then Miko Mader, a clever guitarist who works for my distributor, M1, came up with the perfect solution: Why not use two sliders instead of pots? Tony at Cusack sourced the perfect part, and we prototyped a third version.
Bingo!The ergonomics were great (check out the demo video to see how quickly you can change sounds with one hand). You can mark exact settings with tape if you need to, easily repeating specific sounds. The two sliders are a fraction of the cost of a single joystick, so we can sell the pedal for far less. (We're still nailing down the retail price as I write.) There's no fragile shaft to break. And while I miss the goofy fun of the joystick, the sliders are still pretty darn entertaining. (So thanks, Miko, for your brilliant idea.)
I'm really stoked about this pedal. I hope you enjoy it as well.