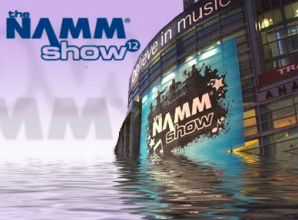 How to tell holiday season is officially over: It's time for NAMM 2016! And this will be the first time I attend not as a music magazine writer, but as a guy trying to sell guitar pedals. Or as Ray Liotta put it in Goodfellas: "Just another schnook."
Not like I can afford a proper booth or anything. I'll just be wandering around with a sack of goods like some frickin' crack dealer. I'll have a pedalboard with new four new releases (plus a couple of surprises) on display at the Vintage King booth in Hall A. But sadly, it won't be hooked up to anything — there just isn't enough room for live pedal demos. However, my awesome friends at Voodoo Lab will have my new Filth Fuzz in the demo pedalboard at their booth. (No business connection there — they're just doing me a favor 'cause they're cool.) So you can stop by and try it out while sampling Voodoo Lab's latest and greatest.
If you're attending NAMM and would like to check out my stuff — or just meet and say hi — drop me a note. I'll be at the show Thursday, Saturday, and Sunday. (Sorry, I can't help obtain passes. I had to scuffle for my own like … a regular schnook.)
But I'm skipping the show on Friday. Friday night I've got a gig at Taix restaurant in Los Angeles, performing my solo looping material and sharing the bill with my longtime pals, Double Naught Spy Car. I haven't played L.A. in several years, and this is the first time playing solo. I'll be stoked if folks stop by.
And during the day, I'm teaching a master class at LACM, where my dear pal Adam Levy oversees the guitar department. The focus is modes — or rather, my irreverent crackpot theories about the most musically profitable ways to regard and use modes. I've been kicking around these notions for many years, and I'll probably adopt them into a tonefiend post soon.
I hope to see some old friends and make some new ones. So don't be a stranger!