My morning, like everyone's, started with a devastating gut-punch: "David Bowie died."
I can't say I knew Bowie, but I was lucky enough to spend a few hours with him back in the '90s. And he was every bit as cool as his music.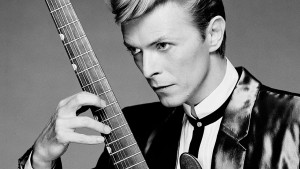 I'd done a Guitar Player interview with Reeves Gabrels after the release of Tin Machine in 1989, and we'd stayed in touch. When Tin Machine II came out in September 1991, the band came to San Francisco to play at a music conference. My future wife Elise and I offered to show Reeves around the city. And Reeves invited David along, accompanied by an amiable bodyguard. We spent the afternoon tooling around town in my dumpy Mazda two-door hatchback with David perched astride the back-seat hump. (He insisted on taking the most uncomfortable seat.)
David was charming and unpretentious, yet freakishly charismatic. This is going to sound a bit woo-woo, but he just seemed to scintillate with some weird luminous energy. That probably sounds like the typical star-struck reaction of a lifelong fan. But I've met several members of the super-famous tribe over the years — Madonna, Springsteen, Ringo, Steve Jobs — and never encountered anything remotely like David's spark.
Some stars have a gift for dimming their light as needed. For example, I used to see Robin Williams around my San Francisco neighborhood back in the '80s. He'd be walking down Haight St. close to the building fronts, slouching a bit with his hands in his coat pockets and his face downcast. You wouldn't notice him till the instant he slinked past. David was the opposite: When he'd round a street corner, it was as if everyone on the block instantly felt the energy shift. It was uncanny.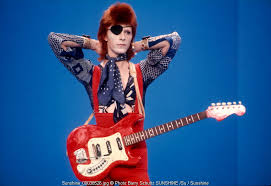 David and Reeves wanted to get piercings. First we grabbed lunch in Japantown (David had pork katsu, and treated everyone. His credit card was in his real name: David Jones.) Then we took them to the Gauntlet, SF's premier piercing parlor at the time. It was David's first piercing. He told us that he and his wife-to-be Iman were both getting simple single-ear piercings. It was an old sailor's tradition, he said: The departing seaman and his love who stayed behind would get matching piercings as a symbol they'd be reunited some day.
David confessed to being a bit scared. As we scaled the stairway to the second floor, he jokingly clutched the bannister as if hauling himself up against the wishes of his legs. Naturally, the guy behind the counter recognized him within milliseconds. He was too hip to make a fuss, but you could literally see his eyes widen. After the guys got their piercings, the wide-eyed dude explained the maintenance procedure, recommending that David rotate the stud to keep the hole from scabbing over. David initially misunderstood and thought he had to remove the stud from his ear. "No," Piercing Guy explained. "Leave it in there and just rock it." He paused for two comically perfect seconds. "You know how to do that."
We drove up and down the city's hills, climbing out at viewpoints and talking San Francisco lore. David was easy to chat with. Unlike many of the super-famous, he'd actually listen to what you'd say and would usually respond with something fascinating. At the same time, it was exhausting. I felt like 33% of my mind was on the words. Another third was studying his eyes with their famously mismatched pupils. And everything else was OHMYGODI'MTALKINGTODAVIDBOWIE.
Everywhere we went, shy fans would approach David, thanking him or seeking autographs. Without exception, David would pause what he was doing, take a moment to chat, and humbly thank them. It was like a master class on the right way to be a rock star. What a gentleman!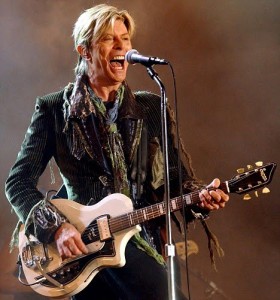 But the gentlemanly feat that most floored me was purely physical. By that point, Elise insisted that David, the out-of-towner, sit up front while she sat on the hump. When we got out to enjoy some view, David helped her out of the rear seat. It wasn't just extending a hand — it was a deft and complex balletic gesture, as if levitating her out of the car, bowing slightly, and ushering her on her way. I can't quite describe the impossibly graceful maneuver, and I couldn't begin to replicate it. It was like something a 17th-century French courtier might do.
Our last stop was a funky hat shop in North Beach. I jokingly urged David to try on an orange plastic pith helmet with a Grateful Dead sticker front and center. Instead, he asked to see a green felt fedora. "How does this look?" he asked, turning and striking a smoky 1940s film star pose. Elise and I swear we felt an electrical shock. We'd almost relaxed by that point, and suddenly David Bowie was standing there! (And yes, he bought the hat.)
Later, back home, we were exhausted. Elise theorized that there's something vampiric about that sort of charisma. David didn't just emanate energy — he seemed to soak it up it from those around him. Yeah, woo-woo again. But that's how it felt.
My second encounter was in 1995, when I flew to NYC to interview Reeves and David separately and together for a Guitar Player cover story. I got to sit in on a rehearsal, where David was calm, kind, and focused with his band. We also went to a Rosie O'Donnell Show taping where the group played live at some decidedly un-rock n' roll morning hour. Again, David was the very picture of modesty and graciousness.
My solo interview with David was as fascinating as you'd imagine. The focus, of course, was guitar playing. He had compelling things to say about his great accompanists: Mick, Earl, Carlos, Robert, Stevie Ray, Adrian, and, of course, Reeves. But we also spent a lot of time talking about David's own underrated playing. Did you know he was the sole guitarist on the Diamond Dogs album? And have you listened to that record lately? Those grinding, clanking guitars are like Sonic Youth 15 years ahead of schedule. And that's David playing the immortal riff from "Rebel Rebel." He said it came to him in a flash, and when it did, he looked up at the sky and thanked God.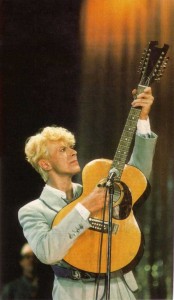 At one point David made an arch comment about a then-huge band he'd shared a flight with — something like, "They were nice enough kids, and I'm told they're quite popular." Back in my hotel room after the interview, the phone rang. "Oh, one thing," said David. "Would you be so kind as to leave that comment out of the story? It wasn't a nice thing to say, and I wouldn't want to hurt anyone's feelings." I did as asked.
I almost had a third encounter later that year when I was touring with PJ Harvey. David contacted Polly, asking her to duet with him and his band on "The Man Who Stole the World" for some TV or award show. Polly being Polly, she said she'd only do it if she could use her own band, and we even rehearsed a dirge-like version of the tune. (Without David, of course.) In the end David nixed the idea, opting to perform his song with the musicians of his choice.
I could write reams about David's music from the perspective of a naïve young fan (I'm old enough to have had Hunky Dory on my radar when it was new), as an aspiring music student during his Berlin era, and from the jaded perspective of a middle-aged music journalist. I probably will at some point. But now I'm just feeling grief for our collective loss, and gratitude for my brushes with Bowie — and getting to spend some time with that remarkable gentleman genius.