Since New Year resolutions expire at midnight, January 7th, I'm racing to realize my goal of finally becoming fluent with music notation software before the sands run out.
I'd like to share some initial impressions about Notion. This isn't a full-fledged product review — just a few thoughts about a half-dozen features I dig. (Most also apply to Notion's sister app, Progression, which compiles all of Notion's fretted-instrument tools, but omits the orchestral stuff. If you only plan to notate for guitar, the lower-priced Progression is probably all you need.)
1. Appropriate complexity. Two programs, Sibelius and Finale, dominate the music notation field. Both are powerful, deep programs. Most notation pros use them because they're packed with features essential to "music engraving" (the archaic and pretentious term for the process of preparing music for publication).
But for some users — like, I dunno, me — that's more power and complexity than needed just to capture and share ideas. I was a Sibelius user for years, but never a skilled one. Later, when I got heavily into Apple's Logic, I decided to go with the program's simplified notation tools. But that didn't work out either — Logic notation features are just too klugey.
You've probably guessed the punchline: Notion splits the difference. The program offers less control over the fine details of your score's appearance compared to Sibelius and Finale, but I found it easier and more efficient to operate in Notion's simpler environment.
Here are some examples from my first Notion project, a transcription for guitar ensemble of the fourth movement of Béla Bartók's String Quartet #4. There's no electronic version of the score because, incredibly, this 85-year-old piece is still copyrighted. So I bought the overpriced Boosey & Hawkes score and input the entire thing into Notion by hand.  :finger:
It was a bitch — but a great way to start learning the program. The project took about eight hours, though I can picture an experienced user doing it in a fraction of the time. Next I edited the score for guitar performance. (Easier than it sounds, because the entire movement is played pizzicato, so it already has a guitaristic feel.)
Check it this PDf of my arrangement if you're curious: Bartók: Allegretto Pizzicato (arranged for electric guitars).pdf
I think it looks real nice. There were a few frustrations: For example, the original score uses the technique of beaming groups of notes across the bar lines to indicate phrasing, like so (pardon the crappy photo of the print score):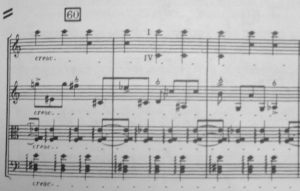 Notion doesn't do that rather specialized trick, so I had to settle for this: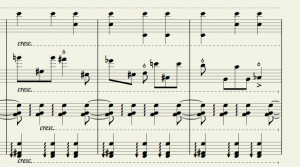 But overall, I was comfy with Notion's compromises, and I'm happy with the look of my score.
It's a bit like page layout vs. word processing software: If you're going to prepare a book or magazine for publication, you need a comprehensive design tool like Adobe's InDesign, but that's overkill for writing an article or story — Pages or MS Word are more appropriate choices. Meanwhile, a generic text editor may get the job done in a pinch. In this metaphor, Sibelius and Finale are like InDesign, Notion is like Word/Pages, and the notation tools built into some DAWs are more like Text Edit or Notepad.
2. Nifty ergonomics. Like other programs, Notion lets you input notes via MIDI keyboard, onscreen keyboard, and manual entry. As an old-school, notate-by-hand guy, I tend to enter notes by clicking on the score, pencil-style, while setting their duration, articulation and dynamics with my other hand on laptop keyboard. The key commands are logical and relatively easy to remember. I can imagine shredding on this program, even in some cafe or airport lounge without access to an extended keyboard. It just feels good.
3. Kick-ass iPad integration. It was the iPad versions of Notion and Progression that drew me to this platform. They're awesome, inexpensive, and miles ahead of the competition. The mobile apps make great use of the touch screen, and while I wouldn't want to manually input a complex score via iPad, I'm astounded by how much notation power they've crammed into these inexpensive apps. Yes — you really can write and edit music while waiting for the bus.  :thumbup:
How cool is this? I saved my score to my DropBox account, and then opened it on my iPad:
4. Bitchin' guitar stuff. Notion is packed with features of particular relevance to guitarists, like excellent implementation of specialized guitar symbols, total tab support, and the ability to input notes by clicking on a a virtual fretboard.
As on all notation programs, the tab features require some finessing. Here, for example, I tried to auto-generate tab for this half-step Ab/G dissonance. This initially stumped Notion, which placed the two notes on top of each other on the same string: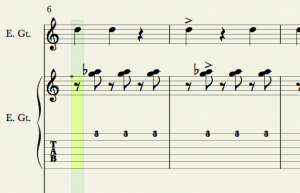 But when I selected the Reset Tab Numbers option, the program recalculated and got it right: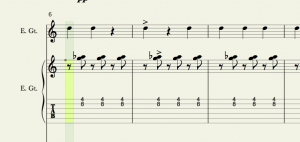 BTW, if you like downloading and sharing guitar tabs, you'll definitely want Progression, which lets you browse the leading tab sites from within the app.
5. A DAW-like work flow. I like how Notion handles the fine-tuning of note durations and dynamics. You can view and edit your score with a sequencer-style "piano roll" overlay. It's a logical and user-friendly way to produce more human-sounding sequences.
6. Good sounds. I find the Notion sound library at least as satisfying as the full-featured Sibelius library, and I can't believe how decent the inexpensive iPad apps sound. As with any notation software, you're not likely to obtain natural-sounding performances just by inputting notes. If, say, you want to create the sort of MIDI-faked orchestral scores you hear on TV, you still must invest much time in tweaking the MIDI files and virtual instruments. But the default sounds in Notion and Progression are just about perfect for composing and arranging. (I've said it before: A notation program that lets you hear your work in real time is #1 on my list of "Things I Wish They'd Had During the Triassic Era When I Was in Music School." Seriously, I can't imagine a better learning tool.)
Conclusions. I'll update these comments after I've spent more time with Notion (and I'll post my Bartók extravaganza when it's done). But for now I find the program quite inspiring, even after a burnout data-entry session. Its compromises between traditional notation approaches and modern music production feel just about perfect.
About pricing: It's complicated! The basic version of Notion goes for about $100, but gets closer to $500 if you add the built-in sample libraries that let you hear your compositions with high-quality orchestral samples. Likewise, the full versions of Sibelius and Finale are close to $500, but there are light versions that go for around $100. Meanwhile, all these programs offer massive academic discounts, and let's just say that the academic software distributors aren't terribly exacting in their qualification demands. If you or someone in your family has any soft of educational ID, you're probably eligible. Meanwhile, Notion and Progression offer awesome iPad apps, while Sibelius and Finale are yet to produce anything comparable. Notion for iPad starts at $15, and runs up to $50 if you spring for the full sound library. Progression is about $5, or $10 with all the sounds.
DISCLOSURE: I requested and received free promo copies of Notion and Progression, but Notion Music did not solicit or pay for this coverage.