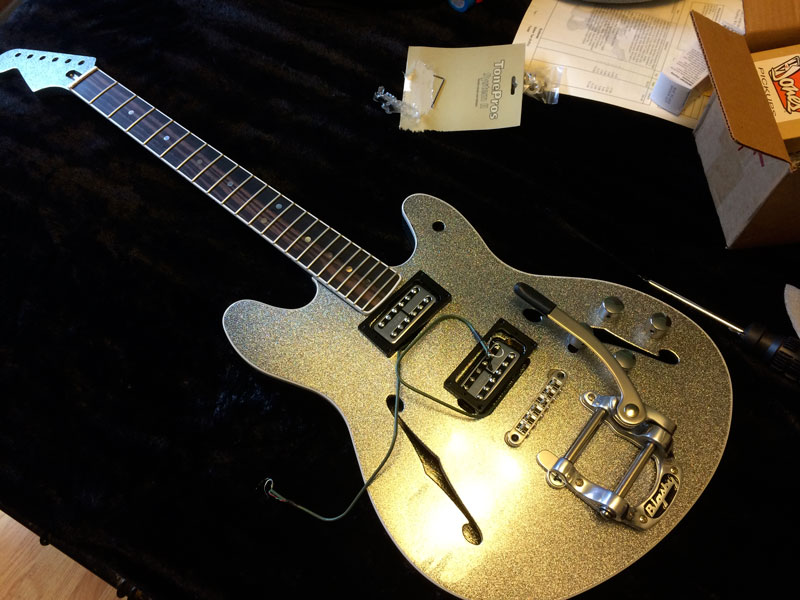 Look what UPS left on my porch: the neck and body for my latest ill-advised "parts" guitar project. I'll be slapping it together in the coming days, but I couldn't resist showing off the pretty parts. The body is Warmoth's Mooncaster model, which is based on Fender's semi-hollowbody Starcaster, a quirky cult guitar if ever there was one. But for the neck, I swiped an idea from Warmoth's Josh Spataro, and substituted a reverse angled Strat neck. The tacky silver finish and extravagant binding are solely the result of my bad taste. (Josh compared it to a pinky ring, which is pretty accurate.) The body is korina, the neck mahogany.
If my last Warmoth parts guitar was a sort of Fender/Gibson hybrid, this one is more Fender/Gretsch. I'm planning to install a set of TV Jones pickups, and this will be my chance to try out a very different type of tone control scheme, one I've been thinking about for a while. If it turns out well, I'll write about it. If not, I'll probably delete the last few sentences and deny they ever existed.
This is my third Warmoth parts project since starting this blog. As before, I'm 100% delighted with the materials and build quality. Since I requested expensive options (like the vulgarly bound and finished neck) and I'm using fancy parts, the guitar probably won't be vastly cheaper than if I'd bought it already made. But it should be unique and fun. Stay tuned — and I'll hope the guitar does too.