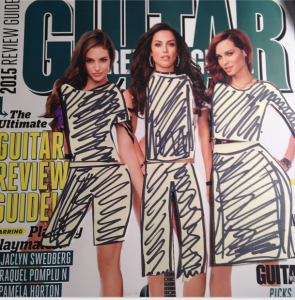 Pedaltrain didn't dig the cover of the new Guitar World, so they changed it. (View the best Instagram ever here.) I think I'm going to have to go out and buy even more excellent Pedaltrain boards.
Funny thing: My friends outside the guitar biz tend to imagine that it's some super-hip industry, when in fact, it's a rather retro community where crap like this is depressingly common. Damn, with so many things in our culture to undermine girls' confidence, who needs more from music mags?
As a palate cleanser, here's a video of girls who actually play:
My band recently had the privilege of playing a Bay Area Girls Rock Camp benefit. The between-acts music was all recorded by the campers, and some of it was awesome. I'm not even a parent, yet I'm grateful the organization exists to counter crap like the Guitar World cover.
Are there any similar groups in your area? Do any of the moms and dads among you have thoughts about nurturing and empowering young musicians?