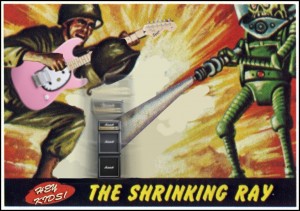 I just tried an interesting tone comparison, one I've never seen attempted. It concerns the search for loud amp sounds at low volumes.
Have any of you ever experimented with speaker attenuators — the passive load boxes that reside between your amp output and speaker input, which let you crank the amp while maintaining a low level from the speaker?
I've worked with one model before, a borrowed THD Hot Plate, and thought it performed well. I decided to purchase my own attenuator after several Premier Guitar reviews of large amps. As a small amp fan (not to mention an aging player with fragile ears), I wanted to minimize the aural assault of evaluating loud-ass amps.
But first, I wanted to determine whether it's legit to evaluate amps at attenuated levels. Does attenuation inevitably alter the tone? And if so, can you compensate for via recording software?
Online opinions about attenuators range from "works like a charm!" to "totally killed my tone!" So I picked up a Swart Night Light and started recording and measuring. (I didn't compare rival products. I just went with the Swart for its reasonable price, solid online reviews, and dual outputs for driving two cabs. I didn't A/B it with a Hot Plate, though the results seem roughly similar.)
I direct-recorded a brief guitar phrase using my black Les Paul with Bigsby and PAFs, and then ran it through a ReAmp to my early '60s Tremoverb, a 35-watt Fender with two 6L6 power tubes. I dimed the volume and left the EQ flat. Tt was insanely loud in my small studio. After recording that, I tracked the same clip again using the attenuator at each of its three settings. The lowest attenuation setting reduced the sound from insanely loud to very loud. Medium attenuation reduced to somewhat loud. Strong attenuation produced a sound quiet enough to speak over. I recorded the results through Royer R-121 ribbon mic. I added a touch of plate reverb, but no compression or EQ. (Though I did normalize the files so they played back at similar levels.) In other words, you hear the same clip four times through a head whose settings never vary.
So did the tone change? Have a listen:
Do you hear what I hear?
IMHO, none of the clips sound particularly great. (Most amps, including this one, don't sound their best at 10.) But the unattenuated loud sound has some qualities the others examples lack. The attenuated clips have a little less low-mid impact, and the higher-register single notes that sound a bit thin and prickly even on the original sound even thinner and pricklier post-attenuation.
Why, since the amp settings don't change, and the performance are identical? Mics can respond differently at different sound pressure levels, and the relatively restrained speaker movement alters the result as well. Conclusion: the timbres of the attenuated signals are fairly faithful to the original, but there are slight spectral differences and a bit less body/fatness, especially on single notes.
Then I introduced some additional wrinkles:
Using the same files recorded above, I tried getting closer to the unattenuated sound using EQ. I turned to Logic's Match EQ plug-in, which can analyze two recording and plot the differences in their spectra. I measure each attenuated clip against the old original, and then added the compensatory EQ adjustment. I analyzed each clip separately, but the EQ curves all looked a lot like this:
Here are the same clips again, but with Match EQ adjustments applied. I think these sound closer — do you agree?
To my ears, the original loud sound still has a touch more impact, but we're getting within spitting distance. I could totally work with these attenuated sounds in a mix.
Okay, one last experiment: In addition to its attenuated speaker outs, the Swart box has a direct out, so you can record the head's output directly at line level. (This part gets really interesting ….)
The first three clips in this final set were recorded direct with no mic. But before tracking them, I made an impulse response of my cabinet's Celestion G12H speaker. Using Logic's Impulse Response Utility, I ran a test tone through the speaker, deconvolved the resulting file, and loaded it as a preset in Logic's Space Designer reverb plug-in. (I discuss the miracle of impulse responses here, including the fact that they can mimic speakers as well as reverberant spaces.)
The first clip is unprocessed direct out, and it sounds as fizzy an shrill as you'd expect (though I wouldn't be above using it in some contexts). The second clip is the same track, but with the impulse-response speaker simulation engaged. (If you've ever wondered which aspects of electric guitar tone are due to the amp and which are imposed by the speaker, just compare these two files!) The third clip adds Match EQ for an even closer approximation. And just for reference, the final clip is the pure, unprocessed loud sound that got this party started.
To my ear, the last two clips are pretty darn close. I perceive slight differences, but not enough to make me care.
This was an interesting experiment! Based on this, I wouldn't hesitate to use speaker attenuators while reviewing gear, though I wouldn't want to do so without spending at least some time with the signal wide-open. Also, I definitely plan to record direct from the head more often. I like the idea of capturing true amp overdrive, but choosing between different speaker models according to the context. (You can do this with most amp simulation software: just bypass the amp section, playing through only a speaker model.)
Most of us have been guilty of saying, "But I can't turn down — I need to be loud for the tone." I often make fun of guitarists who say shit like that, even though I'm as guilty as anyone! But I probably won't say it with quite so much conviction now.
So what techniques have you tried for getting loud sounds at quiet levels. I mean, other than — god forbid! — turning down?