As promised, the correct answers to the Klon vs. Screamer blind listening test posted exactly a week ago: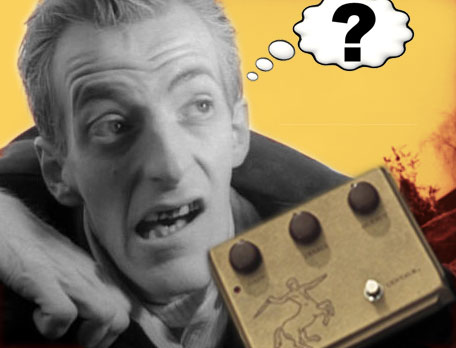 Example 1: medium gain, medium tone
Pedal A = BYOC clone
Pedal B = Klon Centaur
Example 2: high gain, medium tone
Pedal A = BYOC clone
Pedal B = Klon Centaur
Example 3: low gain, medium tone
Pedal A = Klon Centaur
Pedal B = BYOC clone
Example 4: medium gain, bright tone
Pedal A = Klon Centaur
Pedal B = BYOC clone
Example 5: medium gain, dark tone
Pedal A = Klon Centaur
Pedal B =BYOC clone
And the winners are…
<crickets>
Um…no one submitted a perfect 10/10 score.
Most contestants got four or six correct. A half-dozen — Oinkus, Paulo Matos, MotorGoblin, Jackson, Philip Edwards, and few others, maybe — scored eight out of ten. They probably perceived a difference but tripped on a subtler setting. Likewise, anyone who scored two out of ten probably has sharp ears, but just didn't know which sound was which. And at least one contestant scored a zero — which probably means he has the best ears of all.
Anyone who scored over six or below four did better than I could. It would be total guesswork for me.
I worried at one point that some might interpret the contest as an attack on the Klon. (Why would anyone think that? All I did was link to a video depicting Hitler as a "Klon Dong.") But as I shrieked in comments:
While I am poking fun at the absurdities of the marketplace, I love the Klon and have the utmost respect for its creator, Bill Finnegan. The Klon is undeniably derived from the Screamer, but it's packed with innovative design details. It's played a role in my music-making for a long time. IMHO it's the most visually attractive guitar effect ever made, and you won't find many others that feel so much like a frickin' instrument. And of course, Finnegan is in no way responsible for the silly stuff people have said and written pro and con the pedal. And he's definitely not responsible for EBay stupidity.

If you're out there, Bill: Thanks for your passion and commitment to quality. :beer:
I still love my Klon and it's not for sale — though at these prices, it's tempting!
Bear brought up a key point about the beauty of the Klon:
In the reveal stage I'll be interested to find out how much use of the special-sauce switching and tweaking available on the BYOC was necessary to get the tone match. Just for the three knob simplicity I would likely tip towards building a klone. But if the BYOC was used just like a three-knob slime-green vintage screamer that would really rattle people in a fun way.
Totally, man! The Klon, like a Matchless amp, is one of those rare pieces of gear that's literally incapable of a bad sound. That means its designer spent untold hours identifying the optimal range and sweep for every control, and then deliberately restricted their ranges. Hey, we all love user choice! But no one ever says, "That crappy Klon/Matchless/LA-2A/1176/Fairchild/Pultec only does one sound" (Man, did I retrace those steps when I started making stompboxes! I thought I wanted 97 knobs. Now my favorites have one knob. Or none.)
The Klon embodies that aesthetic. Yes, I could more or less match its tones with the clone, but it demanded some fiddling. (And yeah, I did use those extra BYOC settings. You couldn't get that close with a conventional Screamer.) You truly can't get a bad sound out of the Klon — but it's easy to get one out of most screamers!
But the Overdrive 2 (the BYOC clone) is, like all of Keith Vonderhulls's designs, a knockout. I love how he faithfully recreates vintage circuits while adding all the bitchin' options! You can choose between three EQ curves and three diode settings (silicon, LED, and none). There's a discrete clean boost stage. You also get a choice of op amps: a 4558 as in the original, and my fave for almost any op amp circuit, the OPA2134.
So the pedals in this quiz used different op amps (the Klon has an TL072), different diodes (the Klon's are germanium), different voltages (the Klon runs at 18v), different everything!
As DavidRavenMoon noted in comments:
The screamer has the clipping diodes in the feedback loop of the first op amp after the buffer, so the gain stage clips. Then it has a shaping stage which has the tone control where it rolls off top end.

The Centaur starts off with an input buffer/splitter and then goes to a gain stage (with no clipping), and also past the gain stage. it has a dual ganged gain control. As you change the gain it mixes the amount of signal that either goes through the gain and then clipping parts, or past that as a clean signal from the input buffer. Clipping is by parallel diodes between the signal and ground, and not in the feedback loop as in the TS. Then it's to another op amp to mix the signals and roll off some top end. After the gain clipping/mixer, it goes to a treble booster circuit built around yet another op amp, and then to the output.

Just looking at the two schematics shows that it is in no way derived from a Tube Screamer!

But all over drive circuits are amazingly similar. Look at a Distortion +, or a Rat, Big Muff, or what ever, and you see similarities in the gain and clipping stages. So it's not hard to get different pedals to sound alike on certain settings.
He's right And I may have overstated the notion that the Klon is derived from the Screamer.
But let's face it: Most of us can't tell them apart.
Moral? PIck one!
Here's mine: For cool guitar sounds, some things matter and some things don't. But we kind of suck at knowing which things are which.
:ban: