Happy 2016! I hope everyone's holidays were epic, and that you got lots of good stuff.
There's no better way to ring in the new year than to highlight the … um … peculiar culture that somehow got attached to our instrument. You can't make this shit up.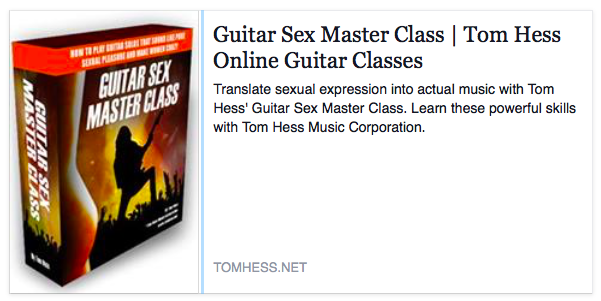 Hard to believe, but this mastur class is totally real — at least in the mind of its creator. From the master:
Only a master guitarist and master guitar teacher understand both mastery of these concepts and how to break down complex and advanced ideas into easy-to-understand lessons that you can begin to learn and use right away in your own guitar playing.

I've been asked to teach on this topic by students again and again over the years. So I decided to create a 4-part master class video series. In fact, people travelled from all over the world, with great anticipation, to be part of this master class while it was being filmed.

Does it really work? It sure does! 🙂 When I filmed the master class, I called up several volunteers (all students of mine) to come forward and try the concepts I shared with everyone. And, as you will see for yourself on these videos, whenever any of these students implemented these specialized concepts, every woman in the room was not only paying complete attention, but all were smiling constantly. We could all see the effect it was having directly on them!

But don't worry, this is not a bunch of childish obscene gimmicks or noises that you make with your guitar. This is about REAL guitar playing mastery! In other words, you won't get slapped in the face when you play this way for women… but they'll definitely feel what you are expressing in a good way!
This, apparently, is the sort of music that does the trick.