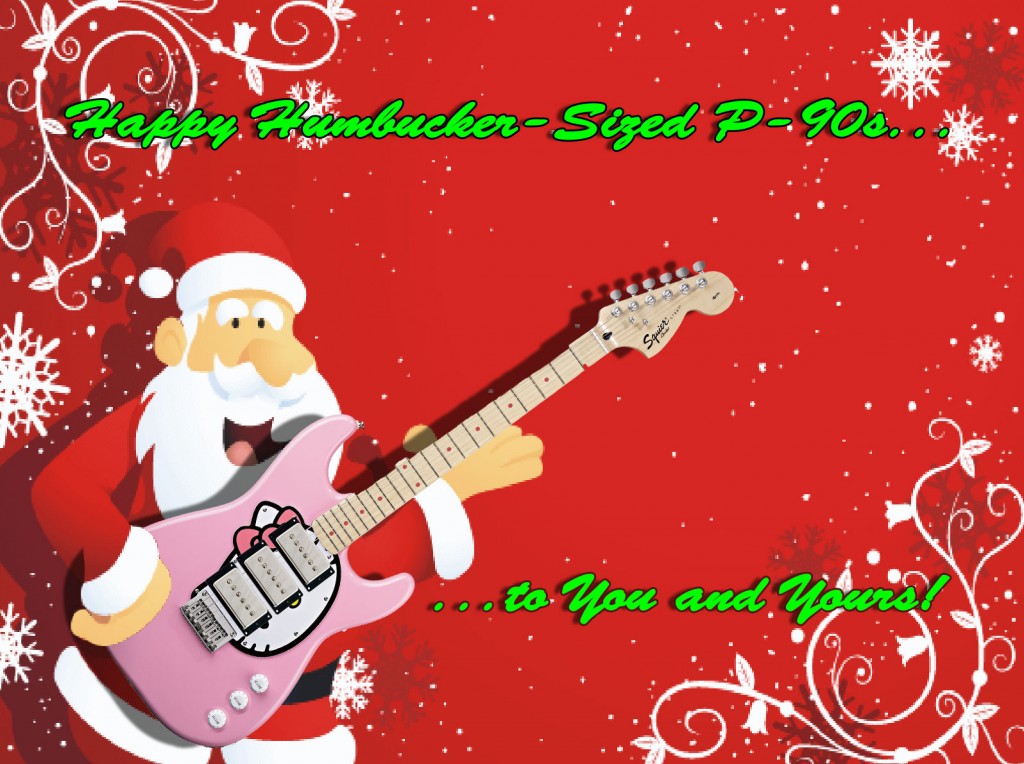 Just in time for the single-coil holiday season: my comparison review of 16 humbucker-sized P-90 pickups is live at Premier Guitar. This heartwarming holiday fun-fest has it all: Mouth-watering adjectives. Freshly baked audio clips. Irate manufacturers. Don't miss it!
This was a fun, if challenging project. Comparison pickup reviews are such cans of worms! Not only are they sadistically labor-intensive, but the differences between one pickup and the next are easily overshadowed by other variables in the tone chain.
After much thought about how to create meaningful comparisons, we came up with an intriguing process: I tested all the pickups in the same guitar, with identical setups, and ReAmped them through the same combo amps with identical recording settings. If this were an amp or pedal review, I would have used the same performances throughout, but of course, each example had to be played anew with each pickup, so I spent much time matching performances to guard against misleading variations in touch and intensity. It's not a perfect solution, but better than most, and in the end quite revealing.
And what did it reveal, exactly? You'll find out at the link. Beyond that, I can report that:
All the products sounded pretty good.
They sounded more similar than you might expect.
I'm gonna find me a guitar to house a set of my favorites — though I'm not sure which ones are my faves! Really, they're close enough that, say, the tone of a particular body wood alone would be enough to sway the decision. It's not so much a case of "better or worse" as "brighter or darker" and "louder or quieter."
As mentioned in the article, there's no "gold standard" of P-90 tone — or rather, every P-90 lover has his or her own standard. Gibson's '50s original are notoriously inconsistent in their output, even their magnet type. Plus, the mere fact that you're winding coils around a narrow, tall humbucker bobbin rather than a wide, low P-90 one has sonic implications. So I tend to think of this entire pickup category as either "single-coils that are ballsier than Fender single-coils," or, in the case of hum-canceling models, "humbuckers with brighter highs and clearer mids." (Or as my ol' pal Steve Blucher from DiMarzio calls them, "humbuckers that hum.")
Funny thing: I love P-90s, but don't own any guitars fitted with them. Not yet. :satansmoking:
So talk to me about P-90s! Your faves? Beloved P-90 guitars? Fave P-90 players and performances?