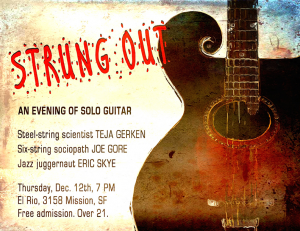 I'm thrilled to bits about a show I'm playing Thursday eve in San Francisco featuring two guitarists of impeccable skill and taste, plus me.
Teja Gerken and I are co-hosting a monthly solo guitar night at El Rio, my groovy neighborhood dive.Our guest is the amazing Eric Skye who, among other things, plays gorgeous solo guitar versions of classic Miles Davis tunes. If you happen to be in cold, cold San Francisco this week, stop by and say hi!
I've been doing the digital looping thing with Mental 99 for a few years now, and man, trying to work out solo arrangements with live-looped MIDI drums has been seriously humbling. You know all those jokes we love about how drummers speed up, slow down, drool, and generally disappoint? I can do all those things and everything else a drummer does, except occasionally play a competent groove. Some of the problems have to do with MIDI tracking in general, and some are simply general suckage. Man, it sure makes me appreciate my brilliant musical partner Dawn Richardson, who never speeds up and drools only rarely.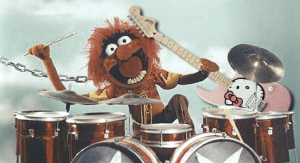 But those who can't, teach. So I whipped up a little tutorial on playing drums with MIDI guitar. The first half covers the moves, and the second half features a live improv based on my fave afrobeat pattern. (Tony Allen is my rhythm god.) It also includes some of the hybird synth/guitar sounds I've been exploring, like double single-not lines an octave lower, mixing trashy guitar and trashy organ, and of course, space pigeons. (I stole the organ line from my pal Robin Balliger.)
In other news: I've been speaking to the ultra-knowledgable Rob Hull from Tube Depot about creating a minimalist DIY amp kit inspired by our conversations here. Lots more details to come. Tube Depot has a track record of making real nice amp kits, and Rob's documentation/build instruction are the best in the biz. I reviewed their cool tweed Champ clone kit here.
Oh — anyone score any good holiday presents yet?