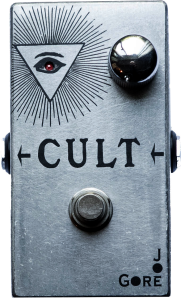 Of the four pedals new I announced at NAMM, Cult is probably closest to my heart— it's my favorite overdrive circuit. If you've watched many of my videos, you've heard it. I even built it into a few guitars, including this one, this one, this one, and this one. And now Cult is coming in pedal form.
It's no secret that 90% of today's overdrive circuits are derived from the Ibanez Tube Screamer. Screamers are great if you want to compress your signal for consistent and predicable results. But Cult provides the opposite effect, expanding your guitar's dynamic range rather than compressing it. It's great for players who vary their touch and guitar-knob settings for maximum tonal variation.
Cult is sort of the mutant grandchild of the single-transistor boosters of the 1960s, including the Dallas Rangemaster. It's no Rangemaster clone, though — the parts, values, controls, and tones have little to do with that classic treble booster. But Cult has the crackling presence and extreme dynamic response you only get from such minimal germanium-transistor circuits. (Guitar Player magazine went so far as to call it "the most dynamic overdrive we've heard.") The pedal heard in this video is a final factory prototype, and the units now in production look and sound identical.
Have a listen:
As the video demonstrates, Cult lets you veer from crispy-clean to spatter distortion just by adjusting your guitar's volume control. But my favorite way to use it is to set the gain so that you can go from sparkle to splat just by altering your touch, as heard in this video:
Cult with be available from Vintage King in the next month or two. There's more info on the Joe Gore Pedals product page.