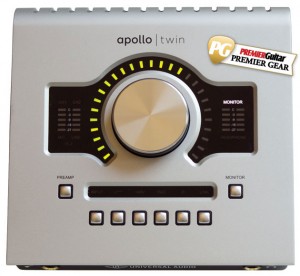 Premier Guitar has posted my review of Universal Audio's Apollo Twin interface. Short version: I love the thing.
A rackmount Apollo interface has been the core of my studio for two years, replacing both a Pro Tools HD rig and a complicated Apogee setup. I adore Apollo's great-sounding preamps, lucid interface, and innovative software, which, among other things, lets you track through simulated preamps on your way into your DAW. Also, UA's analog modeling is second to none. (You hear their reverbs and tape simulations on most of the stuff I've recorded for this site.)
The intensity of my Apollo love is rivaled only by my scorn for the crappy mobile interfaces I've previously used with my live laptop rig. The problem isn't audio quality — even the cheapest ones can sound surprisingly decent — so much as lousy ergonomics and flimsy construction. I've burned through half a dozen interfaces in the last few years. They just aren't built to last onstage. Or anywhere else.
That's why I'm so stoked to have the small-format Apollo on my digital pedalboard. It's built well. The UI is brilliant. There are no horrid breakout cable octopi. It has the same preamps and processors as the rackmount Apollo. And I have access to my favorite UA plug-ins, including the juicy EMT plate reverb simulations, the stellar tape echo models, and a suite of low-latency virtual preamps. It's pricy for a mobile interface: $700 for the single-processor model and $900 for the dual-processor model. But I'd spent far more than that on self-destructing junk that I wound up giving away or recycling.
Anyone else tried Apollo in its various formats? Or any other cool converters? Your observations, please?