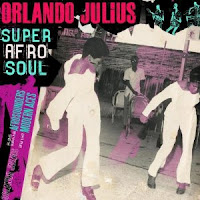 The first good band I ever played in was led by Nigerian singer/saxophonist Orlando Julius Ekemode. I was an obsessive African pop fan, astonished to find myself playing afrobeat, highlife, and juju with a bunch of West African expats in Oakland, California. The crew included the great African music scholar C.K. Ladzekpo and Kwasi "Rocky" Dzidornu, who worked as a session player in London, where, among other things, he recorded the iconic conga track on the Stones' "Sympathy for the Devil." Other players had recorded with great West African artists such as King Sunny Ade, Hedzoleh Soundz, Sonny Okosuns, and the big kahuna of African funk, Fela Kuti.
Orlando Julius — "O.J." — was a kind bandleader who patiently coached me on how not to suck at the styles. I learned so much about time-keeping, note placement, and consistency. And if there's a better consistency exercise than playing an unvarying one-bar pattern for a half-hour song, I can't think of it.
I haven't performed literal afrobeat in many years, though I still find myself alluding to the style. In fact, I just nipped down to the studio and recorded this lick:
The Quintessential Fela Kuti Lick
…and it still makes me happy. 
I never would have imagined that, decades later, there would be a Broadway show about Fela Kuti…that afrobeat drummer Tony Allen would be recording with Flea, Damon Albarn, and the Roots… and that every college town in America would boast its own hippie afrobeat band, complete with trancy rhythm section and sketchily intonated horns.
Back in the Pleistocene '80s, it was tough to find African imports — there were relatively few compilations, and if you could track down one of those amateurishly printed Fela imports on funky Nigerian vinyl, it was a major score. But now there's an avalanche of great West African reissues, including lots of '50s and '60s stuff unobtainable since its release. Particularly stunning are the compilations on the Soundway label. These feature relatively well known figures like Fela and Victor Uwaifo along dozens of obscure bands.  I recommend pretty much anything on the label.
But there's one disc that's especially sweet for me: Orlando Julius's Super Afro Soul, a reissue of the tracks that made him a star in the '60s. Their style is pre-afrobeat, of course — it's more of a highlife/R&B fusion. It's a humbling mind-blower hearing the same songs we used to play in their original glory. I feel like on of those guitarists who sat in with in one of Chuck Berry's later-day pickup bands without ever having heard Berry's original 45s.
O.J. has long since returned to Nigeria. Here's a nice recent interview, and you can hear his classic "Jagua Nana" on YouTube. We used to play this tune — but trust me, not half as well.
Other recommended reissues:
The World Ends: Afro Rock and Psychedelia in 1970s Nigeria
Ghana Special: Modern Highlife, Afro Sounds, Ghanaian Blues 1968-1981
Nigerian Special! Modern Highlife, Afro-Sounds, Nigerian Blues, 1970-6
UPDATE: Don't you  love the internet? O.J.'s wife, Latoya, found this post, and I got a lovely note from O.J. in Lagos. He filled me in on some of his current endeavors.
The music I performed while in the States, is not all of my music. A lot of my early Afrobeat and Highlife music I never performed there. Now since I reurned to Nigeria, there has been so many re-releases in Europe and U.S.

I am doing a program now called "AFRO HI! WITH ORLANDO JULIUS." I am up to my 90th episode, without any sponsors! It is sad that Nigeria do not really encourage the youths to do thier own LIVE music. MTV base has helped in making the youths here now do hip hop and mostly sequenced music. There are a lot of talented musicians here, but they do not get the attention they deserve. The concert scene is gone, so with my program I have been reminding my people of the good ole days and the beauty in Afrobeat, Highlife, Live African music, with good morals! When I get sponsorship I will be able to afford to promote live music concerts. Also I am advocating for "Music in Primary Schools." It would really help the students with learning and also help the nation as a whole. They do not take the arts seriously here, which is sad.

Anyway, I will be recording another album soon, I do not know if in the States, or the U.K. and hopefully touring again next year. Last year I was invited to France to play the "Jazz Vienne", it was nice! Also I will be celebrating "Orlando Julius Fifty Years on Stage" in August.