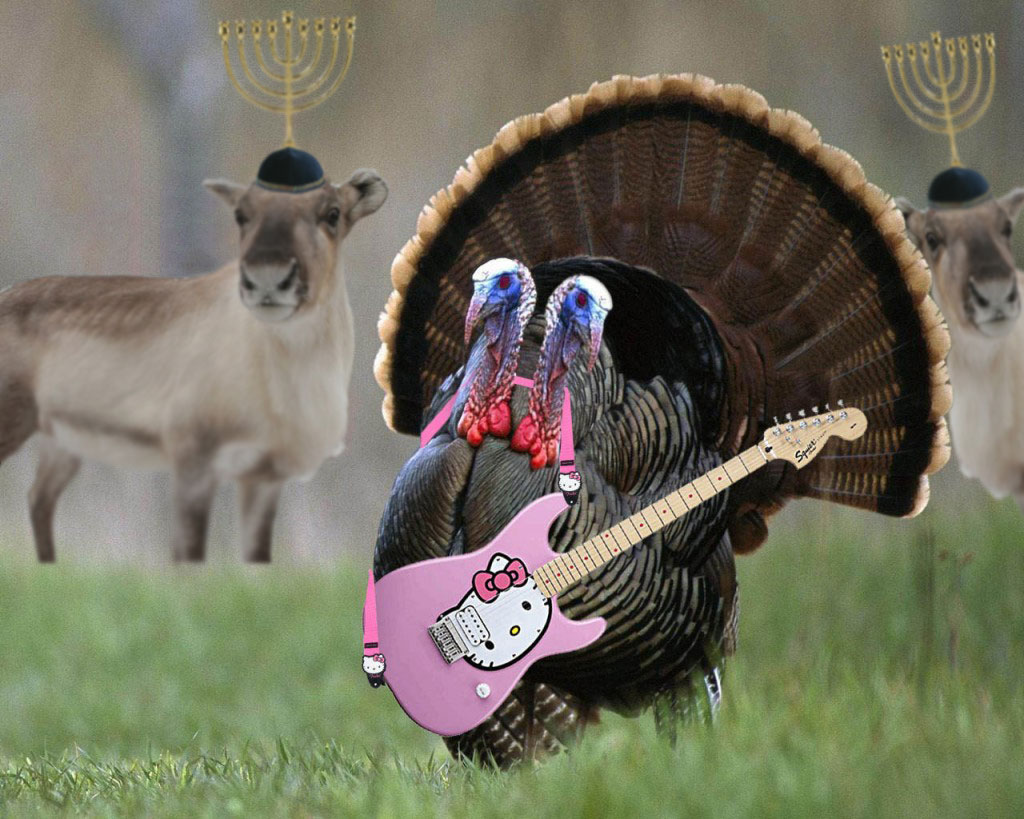 It's that time of year when we stop practicing, turn off the soldering irons, and pretend to relate to spend precious time with our loved ones. I'm off to Santa Fe for a visit with my wife's family (it's okay — they're mostly musicians), and I'm especially looking forward to hanging out with my super-cool nephews. So please pardon this zero-effort post.
Reflexive snark aside, I'd like to thank all of you who have contributed your time, effort, musicality, and ingenuity to tonefiend since the last time I posted a poorly Photoshopped turkey image. If it weren't for you, this site would be nothing more than a bunch of self-important pontification, instead of what it is: a bunch of self-important pontification leavened by your wit and wisdom.
Thanks, too, to you lurkers — I know you're there! Truth be told, I'm a habitual lurker who rarely contributes to his favorite blogs, so I get where you're coming from and invite you to lurk to your hearts' content. (Though if you ever do feel like introducing yourself, I promise you a friendly welcome.)
I've got lots of interesting stuff coming up after the holiday. Your responses and suggestions to the Let's Design a DIY Amp post have helped focus that notion, and I'm speaking with some smart people about creating a project/kit. I'll also be reporting on some of the new digital gizmos and soundware I've been exploring in preparation for a performance at Strung Out!, a monthly San Francisco solo guitar event I'm launching with friend/acoustic virtuoso Teja Gerken.
And frankly, I'm glad to be powering down the soldering iron for a few days, because I just completed all the tech work for a massive pickup review I'm preparing for Premier Guitar, which includes recordings of eight rival humbucker-sized P-90 pickup sets, all tested in the same guitar/signal chain. The results are fascinating, and I managed to perform a couple of dozen pickup changes with only one second-degree burn and two small puncture wounds. (Yep — you heard it here first: The next big thing in humbuckers is hum!) I'll link to the story when it goes live in a few weeks.
I'm thankful for having so many of you to thank. Have a lovely holiday, everyone!