I was polishing up my solo solo version of this lesser-known Mancini tune, and I was reminded once again of the late composer's genius. Sure, we all know he was a great tunesmith and brilliant orchestrator. But the deeper you dig into his compositions, the more remarkable things you uncover.
Even though Mancini worked exclusively in pop idioms, I rank Hank as one of the 20th century's greatest composers. Everything he composed seems to have some remarkable and unlikely compositional twist, even the best-known tunes we take for granted. Consider the slippery chromaticism and crunchy minor-3rd modulations of the Pink Panther theme. Or the familiar "Baby Elephant Walk" melody — if you take a step back, you realize how bizarre it is, rocketing up as an arpeggio before leaping down to a dissonant note. It's also easy to forget how shocking the Peter Gunn theme was, with those violent dissonant accents, not to mention its unprecedented fusion of brainy Stan Kenton harmonies and greasy guitar rock. (Jobim is the only parallel I can draw in terms of writing wildly original chromatic themes that somehow become universally beloved pop melodies.)
This song is Mancini's take on the exotica style created by the likes of Martin Denny and Les Baxter. (Mancini was far too tasteful to include exotica's signature big-call effects, but I lack such restraint.) But check out the cool melody and the way is straddles the underlying harmonies: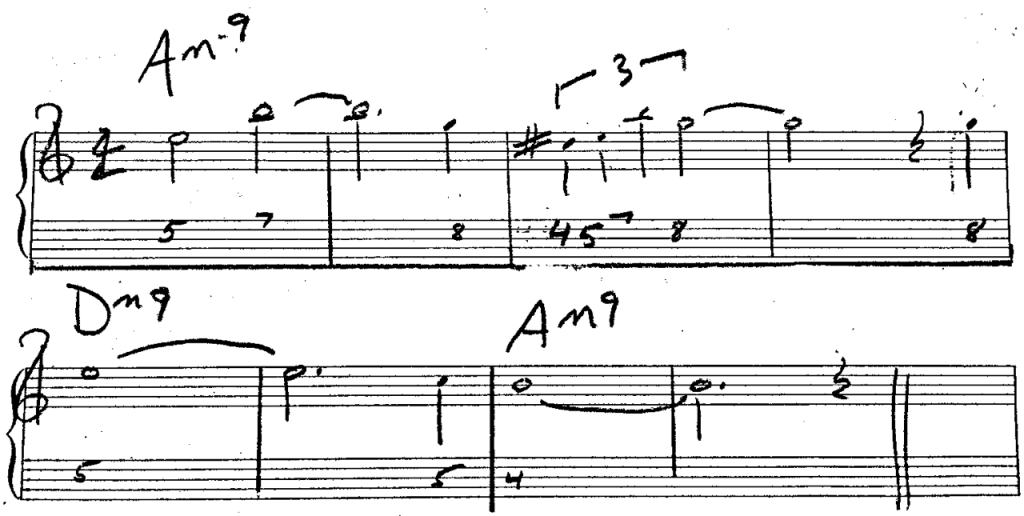 We're in A minor, but no A notes appear in the main melody. Instead, the tune lingers on the 9th, emphasizing B over the Am7 chord and E over the Dm7. Eventually an A does appear — but not till the downbeat of the B second, by which point we've embarked on a long, twisted trail of chromatic modulation.
My Mancini obsession goes way back. In the '90s, I was privileged to play in Oranj Symphonette, a jazz group lead by cellist Mat Brubeck (yeah, Dave's son) that also included peerless keyboardist Robbie Burger, mad multi-instrumentalist Ralph Carney, and drum titan Scott Amendola (later replaced by the equally awesome Pat Campbell). Sadly, our two Rykodisc albums are out of print, but there's buttloads of our stuff on YouTube.
Damn, I miss that band. Reunion, anyone?