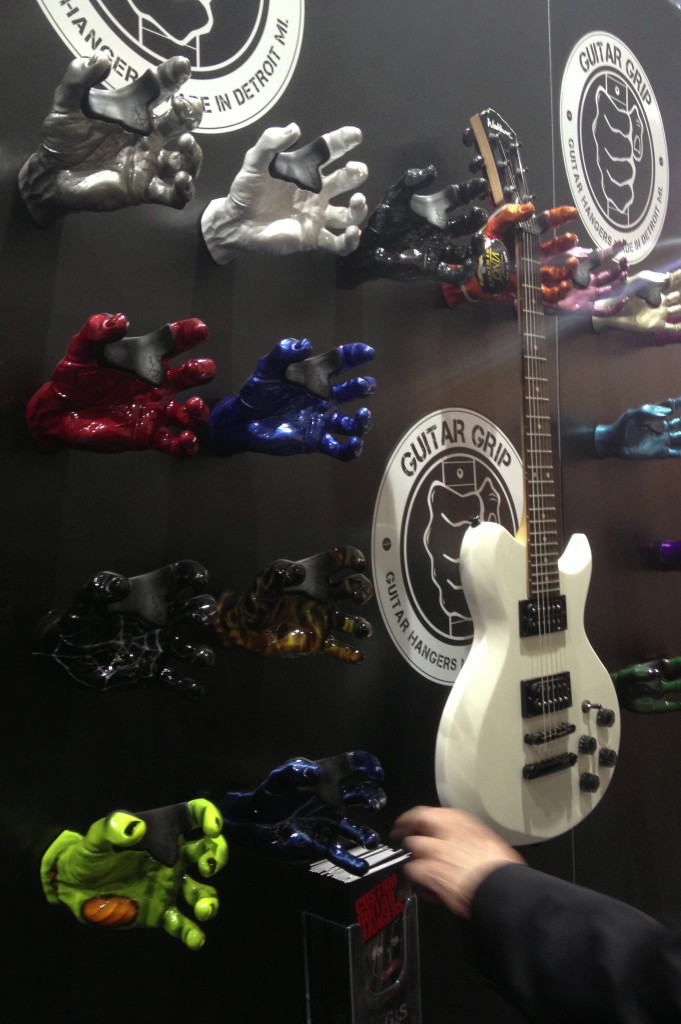 If you've been reading this blog for a while, you may have noticed a recurring pattern: I attend some interesting event and promise to report on it, only to get subverted by work, crowds, jabbering with old acquaintances, and jetlag. True to form, I've spend the first two days either demoing TriplePlay, or staggering to the coffee bar. Yesterday I spent hours staring at these Guitar Grip guitar hangers, which are mounted on the wall right next to the spot where I'm playing. They remind me of the human-hand candelabras from Jean Cocteau's La belle et la bête.
It's been fun playing for so many hours, though I'm still not very good at the MIDI guitar/drums thing. I was having a fairly disastrous moment when John McLaughlin came by. Isn't that always how it is? You're having an off day, and then you look up and see that frickin' McLaughlin. Is it just me, or does everyone hate that? :shake:
This is my first time here, but the old hands tell me that the show is relatively dead, and that a lot of manufacturers have either already given up on Messe, or are planning to next year. We'll see what transpires tomorrow afternoon and Saturday, when the show opens to the public. (So far, it's industry-only.) And I really will try to scope out some gear!