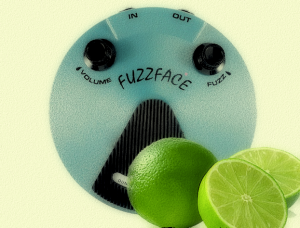 Most sentient guitarists love Hendrix, but not everyone is equally fond of his signature distortion pedal.
So what's your take on the Fuzz Face?
I used to hate them — but only because my sole exposure to them was via the crappy reissues of the '70s, '80s, and '90s. They sounded so brittle and harsh! Not till this century did I encounter the pedal in its original incarnation.
What a difference!
Vintage-style Fuzz Faces produce tones that are warm, rich, and unbelievably dynamic. It was like the first time I tasted a vintage-style daiquiri. Like the Fuzz Face, the classic daiquiri is a delicate concoction made from a few simple yet complexly interactive ingredients — nothing like those nasty blended drinks that taste like Slurpees spiked with Everclear.
Here's everything I love about vintage Fuzz Faces, compressed into 60 seconds:
My DIY version is based on inventor Ivor Arbiter's original 1966 schematic. That's also the basis for a new DIY project created by my stompbox-buildin' pal Mitchell Hudson, who runs the cool DIY site Super-Freq. We'll both be posting it on our sites in the next few days. You can source the parts on your own, or order a kit for less than $50 — not as cheap as some of our other DIY projects, thanks to its two relatively pricy germanium transistors.
Most lore about "mojo" stompbox parts is utter nonsense, but there is something harmonically unique about the germanium transistors used in '60s fuzz pedals, including original Fuzz Faces. (See my "Germanium Mystique" post/rant for more info.) You don't need germanium for a good fuzz sound — there are many great tones available via silicon transistors, integrated circuits, and digital modeling. But one problem with those god-awful Fuzz Face reissues was that they often simply substituted high-gain silicon transistors for germanium ones without modifying anything else in the circuit. The result was more gain, but at the cost of harsh, excessively bright tones and inferior dynamic response.
In the last decade or so, builders have wised up. Numerous manufacturers offer authentic '60s-style replicas. Meanwhile, the DIY community has created countless variations, many of which use post-germanium parts to great effect. These days it's pretty easy to find a Fuzz Face that doesn't suck.
I've build many Fuzz Face variants, but until Mitchell created his Fuzz Face project, I'd never done a strict original, with positive-ground wiring, PNP transistors, and few latter-day "refinements." (Don't sweat it if those terms mean nothing to you — they're all explained within the project.)
Anyway, that's the circuit you hear in the video above. It's not a fuzz for all seasons — it doesn't have a ton of gain, and its loose, spongy distortion is unsuitable for metal and modern hard rock. But I love its warm, non-macho timbre and phenomenal dynamic response. It's simple, classic, and delicious, much like this.