This week we're talking about our favorite guitar/music books. The plan is simple: I discuss a few titles I've found particularly enlightening, useful, or entertaining, and then you jump in and do the same. I've organized the days of this week by subject matter. Today's topics are theory and technique.
Tonefiend Book Week 2013 is an entirely selfish project. I expect to reap tons of great new info from you, smart readers. So don't be shy about chiming in.
1. Ted Greene's complete works
Ted Greene's jazz guitar books have haunted me since the '70s. Chord Chemistry, Modern Chord Progressions, and Jazz Guitar Single Note Soloing Vols 1 & 2 remain in print, and are available in both paper and digital editions.
Ted's books helped me understand the fretboard, tackle jazz harmony, and perhaps most of all, grasp the concept of voice-leading — that is, the ability to perceive chords not as static blocks, but as volatile structures resulting from dynamic melodies. Ironically, even though Ted's books are divided into chordal and single-note topics, they go a long way toward erasing such distinctions. Melody generates harmony, Ted teaches, and harmony generates melody.
Not that I've completely digested Ted's books. Has anyone? These tomes are dauntingly dense and complex. I just cracked open Modern Chord Progressions at random, and this confronted me: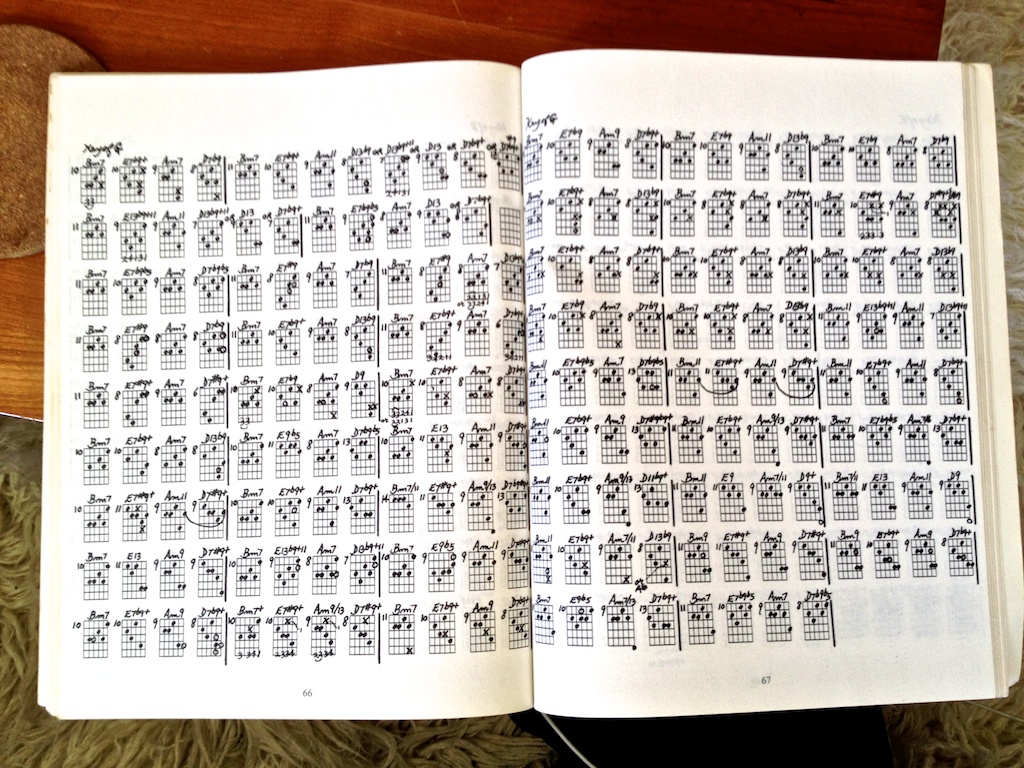 It's the same problem you encounter with all encyclopedic music books, even brilliant ones such as Nicolas Slonimsky's Thesaurus of Scales and Melodic Patterns. How are you supposed to digest so much info? Sheer repetition? Disciplined memorization? Or just jump in at random in search of something inspiring? I tried, really tried, to pursue the former methods when I was young. But I've long since been forced to admit that the "graze and go" method is the only one that works with my particular brain. Other brains vary.
God knows, Ted's brain was different. I first met him when I was a precocious and pretentious 17-year-old who didn't play nearly as well as he thought he did. Ted was teaching out of his parents' living room in LA's San Fernando Valley. I desperately wanted Ted to accept me as a weekly student, but he'd only see me irregularly. Our lessons consisted of a few minutes of playing, after which he'd dig through his cardboard boxes, compiling thick sheaves of xeroxed lessons and inviting me to call again in a few months once I'd absorbed them. (Much of the material wound up in his Single Note Soloing books.) I thought he wouldn't see me weekly because he didn't like me. Conversation was awkward, and he seldom made eye contact.
Back then, of course, we were less aware of autism-spectrum disorders. Nowadays many of us would instantly and correctly diagnose Ted condition as Asperger's Syndrome.
My dictionary defines Asperger's as "a developmental disorder related to autism and characterized by higher than average intellectual ability coupled with impaired social skills and restrictive, repetitive patterns of interest and activities." Which goes a long way toward explaining Ted's phenomenal intellect, odd conversational style, and house-bound lifestyle (he seldom gigged, and he recorded only one brief album). And while those geeky enough to read this blog may sometimes feel as if they live and breathe guitar, I suspect that none of us do so as truly, madly, and deeply as Ted did. Today I realize that he didn't decline me as a weekly student because he disliked me. I just wasn't interesting enough.
I moved to Northern California and didn't communicate with Ted until the '90s, when I was an editor at Guitar Player. He'd write me amazing letters, generously complimenting me on something I'd written, and expanding upon it in page after page of tiny, handwritten script. I pestered him to write a monthly column for the mag, but it never came to pass. I even visited him in his modest Valley apartment, enjoying a long private lesson and then trying to harvest enough material to generate, say, six month's worth of columns. But in the end, he wasn't comfortable with this "as told to" approach, and said he'd create something from scratch. Eventually I stopped my pestering.
That last lesson was intense! We worked on minor-key chromaticism, threading the needle from Ellington to Kenton to Mancini. We also discussed counterpoint. At one point, Ted challenged me to improvise in two voices simultaneously and seemed bewildered that I found this difficult. "Come on," he urged with a smile. "You can do it." True — but only for short passages, and never very well. By now I understood that Ted's brain was wired differently from most, and I recognized him as a sweet, gentle man, and as passionate a player and teacher as any I've ever known. His conceptual mastery was astonishing. It was like hanging out with Mozart or Bach for an afternoon.
There was a huge outpouring of grief when Ted passed away in 2005. Ted is remembered by hundreds of adoring students, most of whom got to know him far better than I ever did. I'm just grateful for my brief encounters with this remarkable teacher and his remarkable mind. Ted's books will inspire and confound me for the rest of my playing life.
2. Scott Tennant's Pumping Nylon: The Classical Guitarist's Technique Handbook
This book, by Los Angeles Guitar Quartet member and USC faculty member Tennant, isn't exactly a secret among classical players — it's one of the most successful modern classical guitar methods. But I suspect that if Tennant had excluded the word "nylon" from the title, more players would realize that it's also one of the best steel-string methods ever created, at least for fingerstyle players. It's available in several versions, including digital ones, though I recommend the Complete Edition.
Tennant has compiled a phenomenal collection of exercises designed to promote strength, consistency, and finger independence for both hands. It's steeped in historic classical guitar studies, but ventures far beyond their 19th-century techniques. Tennant mixes historic and original exercises and includes classical and modern pieces that exemplify each technique. You don't have to be a classical player to reap their benefits. In fact, you don't even have to read music — the book is also available in an all-tablature version.
Here's just one example of Tennant's innovative approach: a set of finger-independence studies based on the idea of "planting" certain fingers in a fixed position on the neck, and stretching the other fingers in relation to the fixed fingers. I'd wager that this seemingly simple exercise would be a provocative technical challenge for the vast majority of guitarists, even highly skilled ones.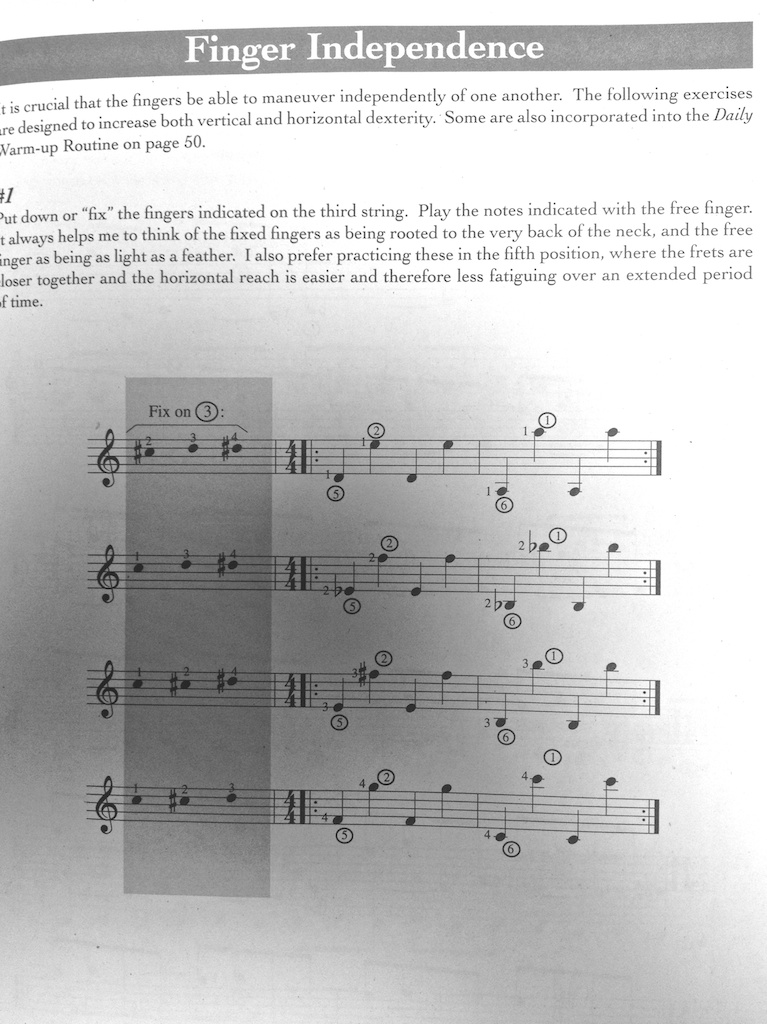 Throughout, Tennant borrows from traditional technical material, but he isn't shy about updating it for modern music and modern techniques. I defy any player to spend time with Pumping Nylon and not emerge with stronger, cleaner technique. It'll also help you play faster, if that's your thing.
3. The Classical Fake Book [no author or editor credited; Hal Leonard Publications]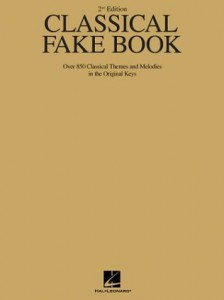 It's simple but diabolically clever: The Classical Fake Book presents over 600 classical themes in "lead sheet"-style arrangements. Instead of grappling with complex classical scores, you get the melodic and harmonic "essence" via chord symbols and a treble-clef melodic line. (Yes, you do need to some reading ability to use this book, but only a fraction of the skills required to access the music in its original formats.)
No sane classical player would prep for a concert using these dumbed-down musical summaries. But they open a world of musical possibilities for guitarists with basic reading skills. Meanwhile, players with classical schooling will find it fascinating to view this music through the prism of pop notation. When I'm searching for ideas, I love flipping through and playing tunes at random, in search of a melodic figure or chord sequence suitable for variation and adaptation. Why not steal from the classics? Heaven knows, many others do!
4. A great book for learning to sight-read?
This one is a question for you, dear readers. Can anyone recommend a good book for learning to sight-read?
Back when I taught a lot, I always used Leon White's Sight to Sound for students who wanted to learn to read. Sure, many classical and jazz methods include sections on note-reading, but White's book was the only one I knew of that emphasized true sight-reading — the seemingly direct connection from eye to hand. White deliberately created exercises that aren't very melodic or memorable, presumably to prevent guitarists from playing by ear rather than by eye.
It's still a good book — but I'm wondering whether anyone knows of newer alternatives. Perhaps a longer, more comprehensive book whose musical exercises aren't such bitter medicine? Any suggestions?
And speaking of suggestions: Now's it's your turn to share the books that have helped you play better or understand music more deeply. Did any particular books inspire you when you were starting out? Are there any that you returned to year after year? Any that you plan to tackle sometime soon? Don't be stingy, now — share the wealth! 🙂